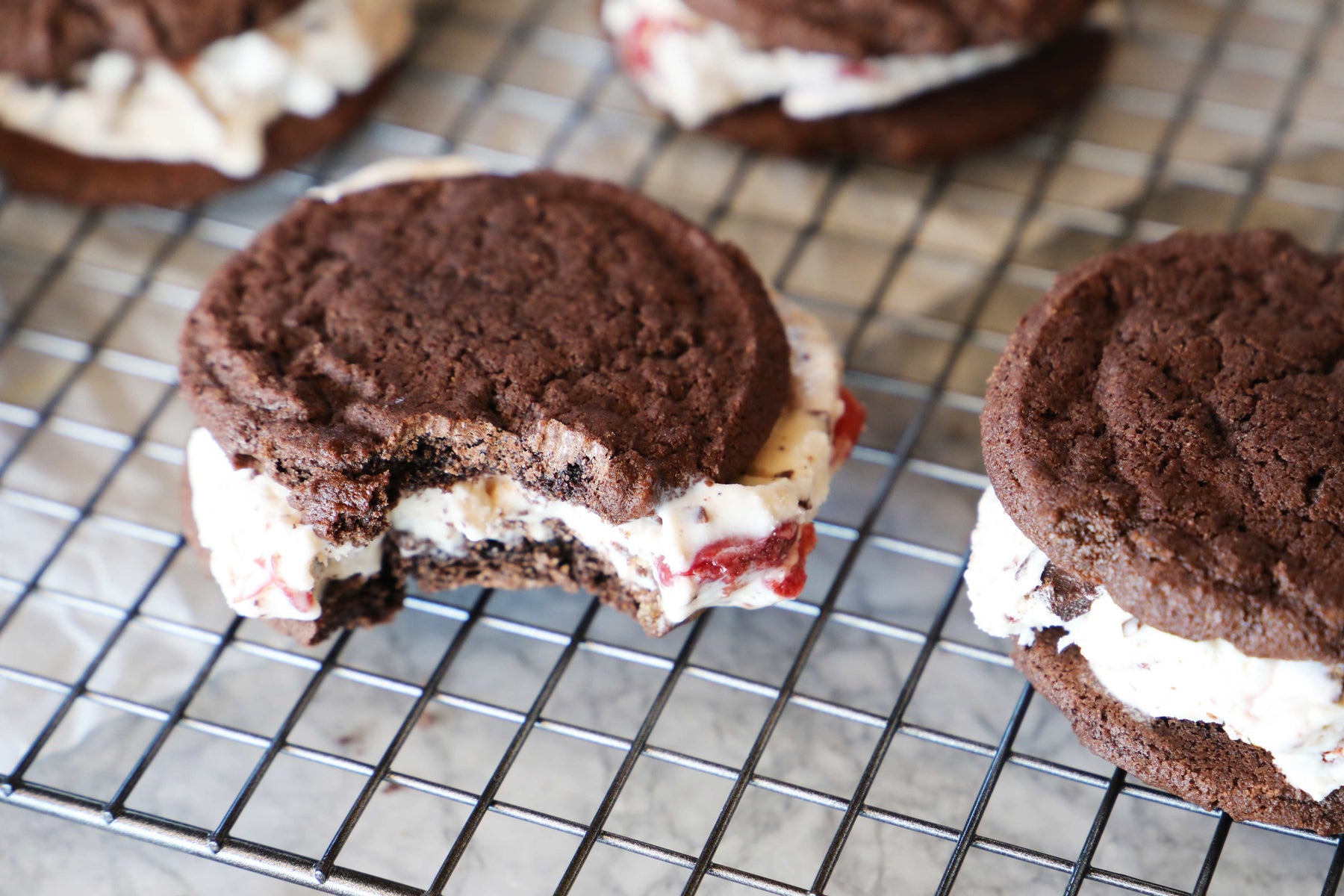 Cherry Ice Cream Sandwiches
Cherries, chocolate, and ice cream, can it get any better? These ice cream sandwiches are a snap to make and are a true crowd pleaser. Using our signature Cherries in Brandy to make these scrumptious sandwiches takes the flavour a step above the rest.
16-18 sandwiches

Ice cream:
1 jar Cherries in Brandy
¾ cup chopped bittersweet chocolate
1 tsp vanilla
14oz sweetened condensed milk
2 cups heavy whipping cream
Pinch salt

Cookies:
1 cup unsalted butter, melted
1 cup brown sugar
½ cup white sugar
2 eggs
2 tsp vanilla
2 tsp espresso powder
½ cup cocoa powder
2 cups all purpose flour
1 tsp baking soda
1 Tbsp cornstarch
½ tsp salt

- To make the ice cream combine the sweetened condensed milk, brandied cherries (with juice), vanilla, and salt. In a separate bowl, or in a bowl of a stand mixer, whip the heavy whipping cream to stiff peaks. Fold in half of the condensed milk mixture and half of the chopped chocolate into the whipped cream, being careful not to deflate the whipped cream. Fold in the rest of the condensed milk mixture and the chocolate. Gently pour this mixture into an 8x8 baking pan, or a loaf pan. Cover with plastic wrap and freeze for at least 6 hours, or preferably overnight.
- To make the cookies, in a large mixing bowl combine the melted butter, brown sugar, and white sugar. Beat in eggs one at a time and stir in the vanilla. In a separate bowl sift together the flour, espresso powder, cocoa powder, baking soda, cornstarch, and salt. Add the dry ingredients into the wet and mix until completely combined. Scoop dough out using a small/medium sized cookie scoop/ice cream scoop. It is about 1 ½ Tbsp of dough in each scoop.
- Scoop dough onto a parchment lined baking sheet close together. These cookies bake better if they have time to chill for at least 30 mins in the fridge before baking. While dough is chilling, preheat oven to 325°.
- Place dough on another parchment lined baking sheet leaving at least 1 ½-inches between each scoop. These cookies do spread, so you do not want to place them too close together. Bake cookies for 12 minutes, then rotate your pans, and bake for another 5-7 minutes. You do not want to over bake these cookies as you want them to be soft when they cool, so keep an eye on them. Let cookies cool completely before assembling your ice cream sandwiches.
- To assemble the ice cream sandwiches: Place a scoop of ice cream on the bottom side of one cookie. Place another cookie on top and press together. Keep ice cream sandwiches in the freezer until ready to serve. The ice cream and cookies can be kept frozen separately as well for up to 3 months. Just defrost the cookies the night before and assemble when they are thawed.