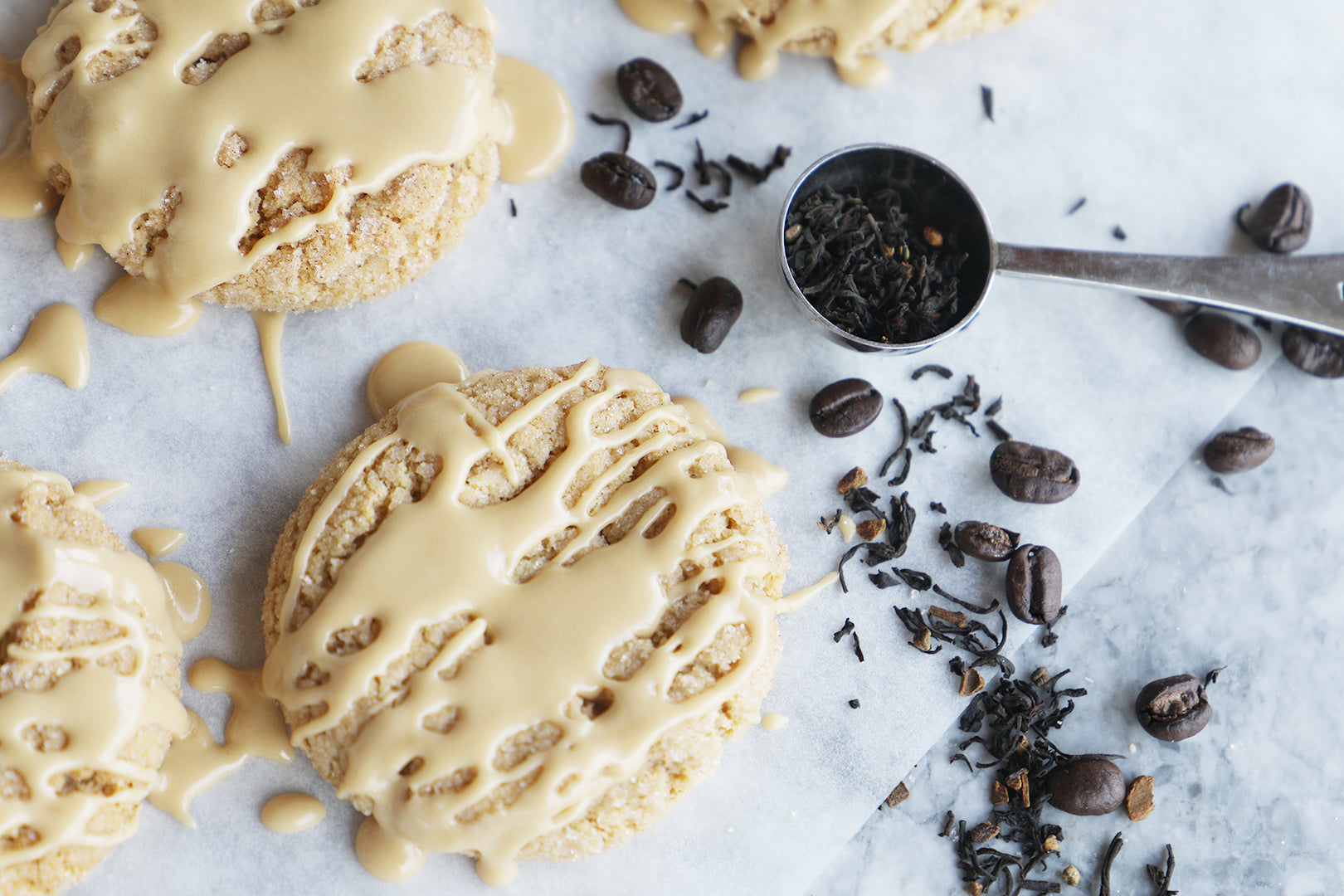 Chai Spice Coffee Cookies
2 Dozen cookies
Cookies:
1 cup butter
1 cup sugar
2/3 cup brown sugar
2 eggs
2 tsp vanilla
3 cups flour

1 tsp baking soda
½ tsp cream of tartar
1 tsp cinnamon
½ tsp ginger
¼ tsp nutmeg
¼ tsp cloves

½ cup sugar
1 tsp cinnamon

Icing:
2 cups icing sugar, sifted
2 Tbsp Receiver Coffee, cooled
2 Tbsp Chai Spice syrup (recipe in directions)

- Preheat oven to 350°
- In a bowl, sift together the flour, baking soda, cream of tartar, cinnamon, ginger, nutmeg, and cloves. Set aside.
- In the bowl of a stand mixer, beat together the butter and sugars until light and fluffy. Beat in the eggs one at a time, making sure each egg is fully incorporated before adding the next one. Scrape down the bowl and beat again. Gradually incorporate the flour into the butter mixture. Do not over mix.
- In a small bowl, stir together the sugar and cinnamon. Set aside.
- Using a cookie scoop, scoop cookies onto a baking sheet. Once all the cookies are scooped, dip each dough in the cinnamon sugar mix, and coat completely. Place dough balls back on cookie sheet and set in the fridge for 1 hour.
- Bake cookies for 9-12 minutes. You do not want to over bake these cookies, as they will continue to cook on the pans when you take them out of the oven. You want the edges to be set and slightly brown before you take them out. Cool completely on the pans.
- To make the Chai syrup, bring ¼ cup water, ¼ cup sugar, and 1 tsp Chai Spice Tea to a boil. Simmer for 10 minutes, and strain through a fine mesh strainer. Cool completely. You will only need a few Tbsp of syrup for these cookies, so the rest of the syrup can be stored in a glass jar in the fridge. It tastes delicious in lots of other things, such as coffee, cakes, iced teas, etc.
- To make the icing, whisk together the icing sugar, cooled coffee, and chai syrup until desired consistency. Drizzle cooled cookies with glaze and enjoy! Cookies will keep in an air-tight container for up to a week.