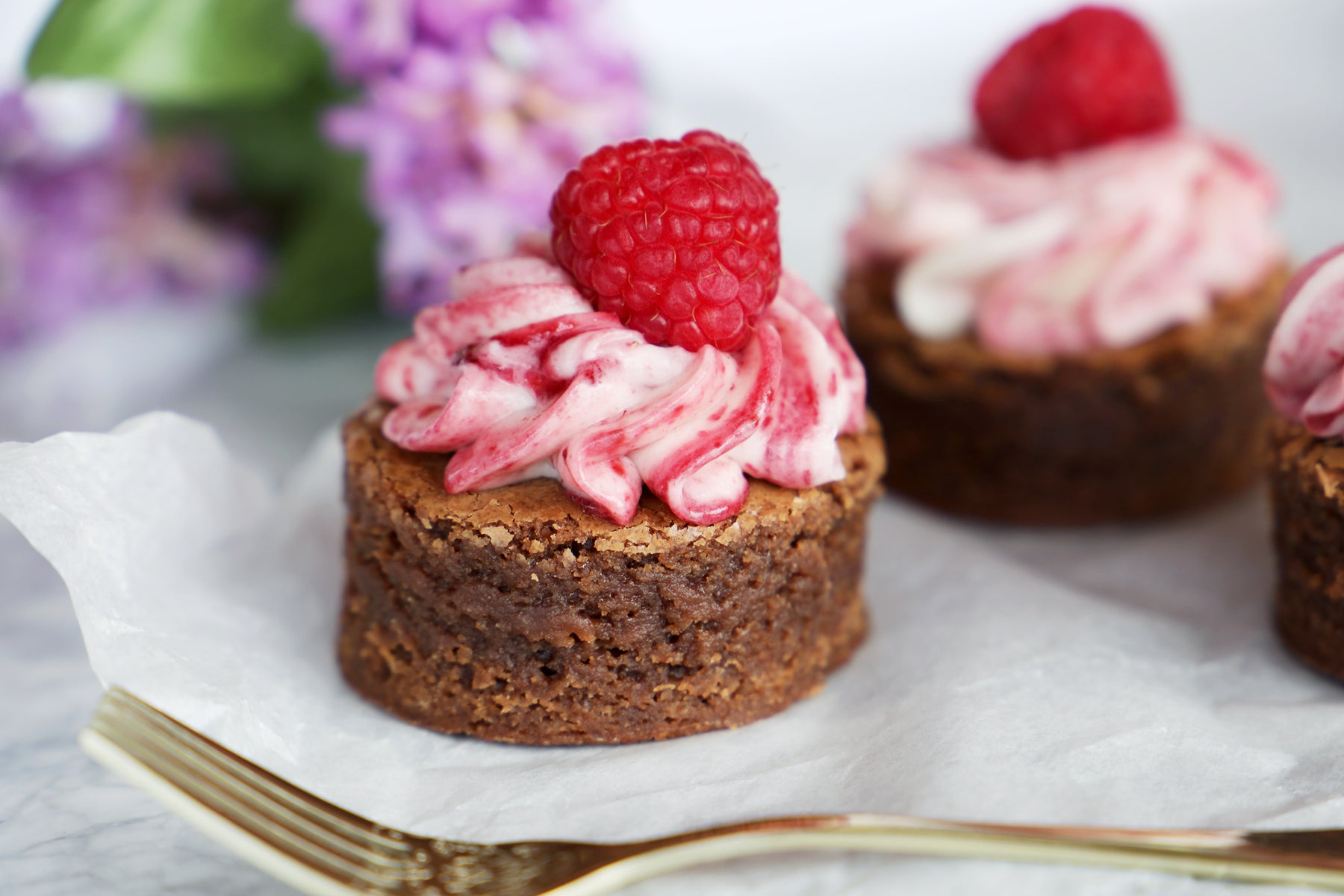 Preserve Company Brownie Bites with Raspberry Swirled Cream Cheese Frosting
9 brownie bites
8x8 square pan

Brownies:
½ cup unsalted butter
3 oz. Chopped semi-sweet chocolate
1 ¼ cup sugar
3 large eggs
1 tsp espresso powder
2 tsp vanilla
¼ tsp salt
1 cup flour

Frosting:
1 cup cream cheese, softened
¼ cup unsalted butter, softened
3 cups sifted icing sugar
3 tbsp No Sugar Raspberry Preserves

- Preheat oven to 325°, and line an 8x8 pan with parchment paper.
- In a bowl over simmering water, stir together unsalted butter and chocolate. Once fully melted, stir in the sugar and vanilla. Add eggs in one at a time, mixing completely after each egg. Stir together the flour, salt and espresso powder in a separate bowl. Gently stir the flour into the chocolate mixture. Pour batter into pan and bake for 30-35 minutes. Cool completely before cutting the brownies with a round cutter. Makes approximately 9 rounds, depending on how big your round cutter is.
- While brownies are cooling, make the cream cheese frosting. In the bowl of a stand mixer with the whisk attachment, mix the cream cheese and unsalted butter until combined. Add in icing sugar on cup at a time, scraping down the bowl after each cup. Once all the icing sugar is incorporated, whisk frosting until light and fluffy. Gently swirl Raspberry Preserves into frosting, and spoon into a pipping bag fitted with a star tip.
- Pipe swirled frosting onto each brownie, and top with a fresh raspberry. Brownies can be kept in a covered container in the fridge for up to 3 days.