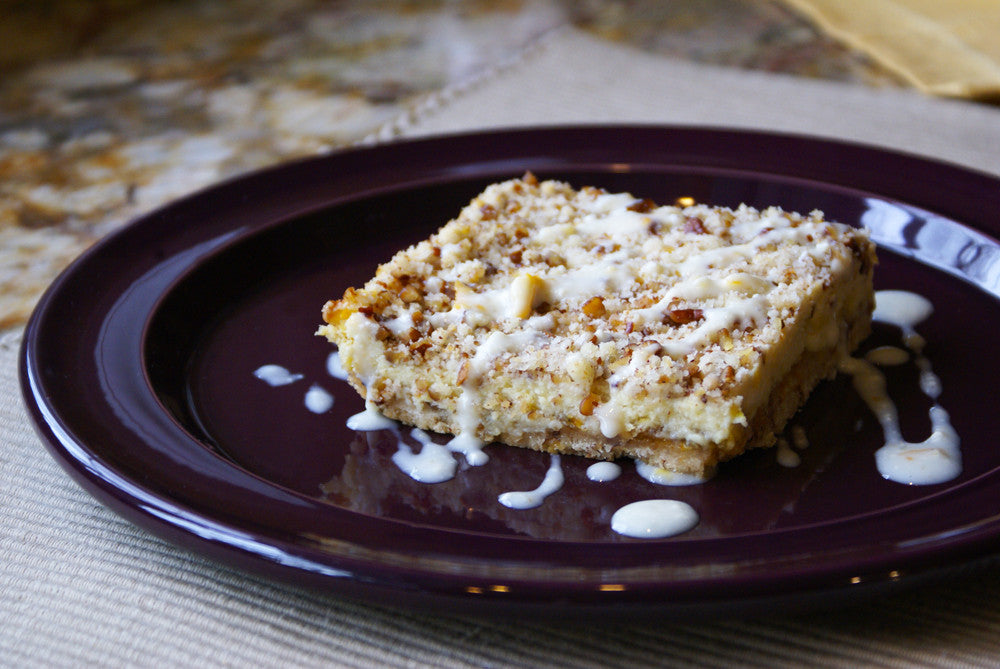 Orange Marmalade Cream Cheese Bars
A bar cookie with a nutty shortbread crust and creamy orange marmalade topping is sure to please all.  Walnuts or other nuts may be substituted for the pecans.


Ingredients:
3/4 cup butter, softened
3/4 cup sugar
1/4 teaspoon salt
2 cups all purpose flour
1 and 1/3 cups pecans, toasted and chopped
12 ounces cream cheese, softened
2 eggs
1 teaspoon vanilla
1 and 1/2 cups Orange Marmalade with Chivas Regal

Instructions: 
Preheat oven to 350F. Butter a 9"x13" pan.

Beat together butter, sugar and salt until light and fluffy. Add flour 1/2 cup at a time and mix until well blended. Stir in 1 cup of the chopped pecans (mixture will be crumbly) . Place 1 cup of the mixture in a small bowl and add remaining 1/3 cup nuts. Set aside for topping.

Press remaining mixture over bottom of buttered pan. Bake for 15 minutes. Cool.

Beat cream cheese in large mixing bowl until smooth.  Add eggs one at a time, beating well after each addition.  Stir in vanilla and 3/4 cup of the marmalade.  Spread cooled cookie base with the remaining 3/4 cup marmalade.  Pour cream cheese mixture over top, spreading evenly. Top with the reserved nut mixture in small bowl.

Bake 20-25 minutes or until entire looks set.  Cool.