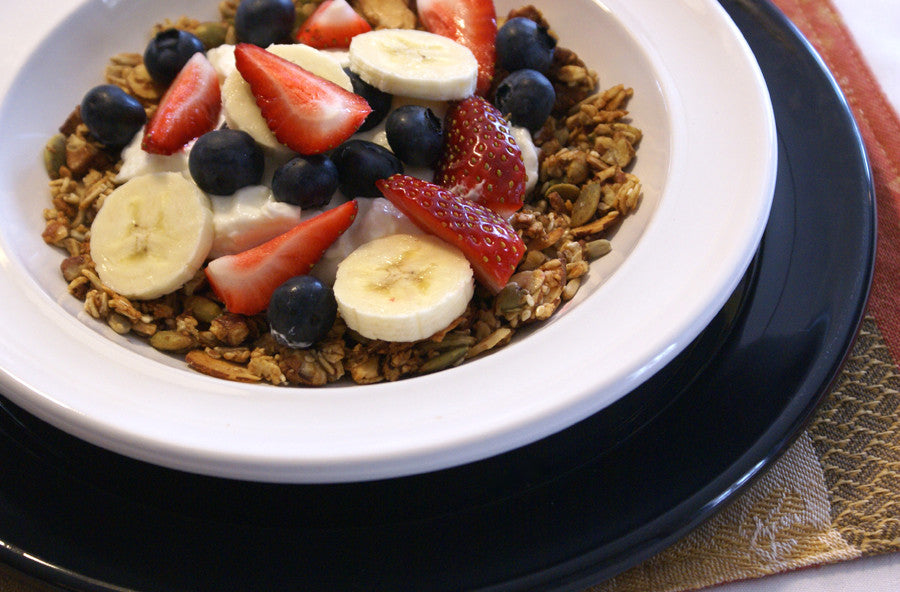 Maple Muesli
Ingredients: 
3 egg whites
1 cup 100% Maple Syrup
1 and 1/2 teaspoons ground cinnamon
Pinch of salt
4 cups large flake rolled oats
1 cup pumpkin seeds
1 cup sunflower seeds
1 cup sliced almonds
1 cup pecan pieces
1/3 cup sesame seeds
(If either your pumpkin seeds or sunflower seeds are salted, do not add any additional salt. If possible use unsalted seeds.)
Instructions:
This delicious recipe makes quite a large amount and requires two baking sheets. You can halve it easily.
Store muesli in an airtight container to keep it fresh - you can also freeze it.  It is good as a cereal, as well as a nice snack with some crunch and sweetness, eaten alone or with fruit and yogurt or ice cream.
Grease two large baking sheets or line with parchment paper.  Preheat oven to 375 degrees F.  Whisk egg whites, maple syrup, cinnamon and a pinch of salt in a large bowl until well combined. Add the remaining ingredients, one at a time until everything is combined and covered with the liquid mixture.
Spread the oat mixture onto the prepared baking sheets. Bake in the preheated oven,stirring every 5 minutes or so for about 25-30 minutes or until just golden brown and crisp.
Cool completely before serving.