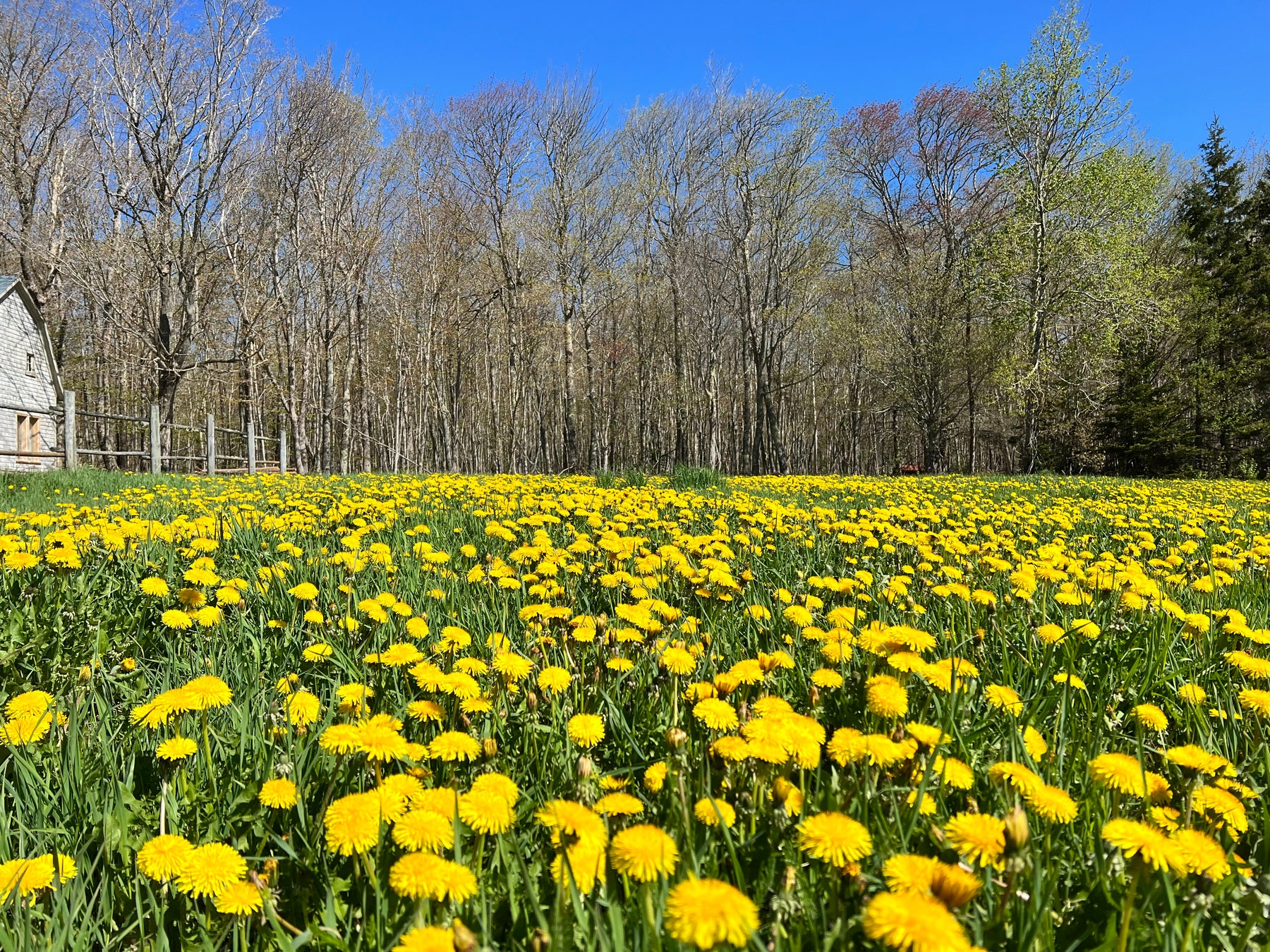 The Yellow Gift + Don Quixote is a + Father and Son Workout
Good Morning from Warren Grove, Prince Edward Island, 
I hope you had a lovely week, and welcome back. 
"Time flies. Time flies faster every year. Time flies whether you're having fun or not, whether you're living your life big or small, whether you surround yourself with fear or laughter." ~ Claire Cook
The staff and Adam and Marsha, the new owners of Prince Edward Island Preserve Company, held an open house this past Tuesday in honour of Shirley and me, and it was an absolute pleasure to see so many turn out, customers, staff, friends, family, politicians, and suppliers. We thank you for all your love and support.
Not sure where you are, but this was the week of a dandelion explosion on Prince Edward Island.
The well-known plant of the daisy family, the dandelion, can be found in Europe, Asia, and North America. Not getting too much into the etymology, the plant gets its name from a contraction of dent-de-lioun, from Old French dent de lion, literally "lion's tooth" (from its toothed leaves).
Whether you love them or hate them, dandelions are among the most familiar plants known globally and the most successful plants that exist.
People praised the golden blossoms and lion-toothed leaves as a bounty of food, medicine, and magic in history. So gardeners often weeded out the grass to make room for the dandelions. But somewhere in the twentieth century, humans decided that the dandelion was a weed. They're also the most unpopular plant in the neighbourhood, but attitudes change.
One can see beetles, butterflies, bumblebees, and insects on the dandelions. And society is waking up to the interdependence we have on nature and nature on us. Cooperation is a beautiful thing. 
The more clearly we can focus our attention on the wonders and realities of the universe about us, the less taste we shall have for destruction. 
~ Rachel Carson
The winning photo below for the Smithsonian Magazine 2021 photo contest under the "Natural World" category
Environmental photographer Matjaz Krivic accompanied a pair of journalist friends to Kenya last year in part to cover a story about former special forces soldiers training wilderness rangers on how to foil poachers. 
Take a peek at all the winning photographs here. 
An area of interest for me has been to learn what nature has to offer stomachs and minds through foraging. Now that I have more time, I hope to pursue this intentionally. 
"Our life is composed greatly from dreams, from the unconscious, and they must be brought into connection with action. They must be woven together." ~ Anais Nin
In the video below, Eric Joseph Lewis - plant educator, avid forager, permaculturist and Earth lover - shares his top 10 wild edible greens. He looks so content doing what he loves to do. 
Don Quixote is an allegory of every man who, unlike others, pursues an objective, ideal end that has taken possession of his thinking and willingness, and then, of course, he stands out as an oddity in this world. ~ Arthur Schopenhauer
I read this week about a village tucked away in the mountains of Japan's Shikoku island, a town of about 1,500 residents, on an ambitious path toward a zero-waste life.
In 2003, Kamikatsu became the first municipality in Japan to make a zero-waste declaration. Since then, the town has transformed its open-air burning practices into a buying, consuming, and discarding system to reach carbon neutrality. The town estimates it is 80 percent toward meeting that goal by 2030. 
This link will take you to the Washington Post article. 
Last week's Ode to Joy video brought us to tears. It was so beautiful. 
Here is another, I enjoyed as well.
I plan to send my first A Bunch of Good Things newsletter Sunday night. If you have signed up already, thank you. If you have not, you can sign up here. 
We wish you and yours a wonderful weekend and lots of love from Prince Edward Island. 
Bruce + Millie 
ps. Your Morning Smile
Son: I watched a guy do 50 push-ups in a row. Can you do that, Dad? 
Dad: Of course, son. Heck, I could probably watch someone do 100 push-ups.