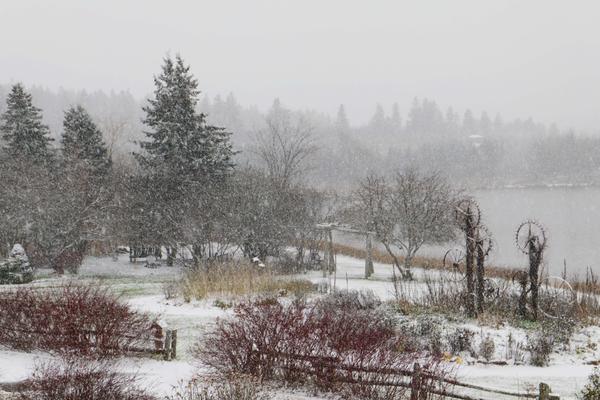 The Greatest Virtue + Her Fears Faced + Know Any Pessimists?
Good Morning from Warren Grove, Prince Edward Island
Tis the season to be jolly.
Put on the kettle and let's have a cuppa.
Wondering about Prince Edward Island Covid News?
What a week we had at the shop. Thank you to all who placed your orders.
We appreciate becoming part of your seasonal traditions. I
honestly
think of you on Christmas morning. And how it is an honour for us to be on the table in so many homes around the world at this special time. Very grateful.
"Gratitude is not only the greatest of virtues but the parent of all others."
~ Marcus Tullius
A little pressed for time today. So my visit will be a one cupper today, but I hope you enjoy what I have been watching, listening and thinking about. And thank you for being here when I knock on your email door.
A News Story I Enjoyed.
First, she faced her fear of heights, then she took on something even scarier: Remarriage
Dawn LeBlond sat in her cubicle at the Federal Aviation Administration feeling lost.
A former Navy aviator, she'd always held herself to high standards, and getting divorced at 32 felt like an epic fail
. Even worse was the dim memory of who she used to be: optimistic, athletic, outdoorsy. Where, LeBlond wondered, had that Dawn gone? Read the Rest of the Story. 
Neither dependent nor independent thinking is working.

Interdependence

is needed

and

is created by

bringing together the best of the dependent mindset, relationship with others, and the best of the independent mindset, relationship with oneself

.

Interdependent people

are committed

to creating a better world for others and are already working in

mutually

beneficial business partnerships and personal relationships, and

are involved

in community building and healing the environment

. - Tanis Helliwell
This video made me think about conflict, time and love.
This time of year, I love listening to choral music. Not sure where or how that started, but it has grown into a love affair. This week I have been listening to a wide variety of vocal talents via Apple Music. This playlist is called Choral Chill. Enjoy a sample listen here.
"The role of music in our culture is most crucial because music is the art most sacredly capable of helping us get in touch with the deepest passions and compassion, and deepest understanding of ourselves." - Ethan Hawke
If you want to have some fun and create and send your own message in tone; 
try it out here
.
Don't argue with an idiot...
People watching may not be able to tell the difference.
He decided to try to break the news to a friend of his, a pessimist by nature and invited him to hunt with him and his new dog.
As they waited by the shore, a flock of ducks flew by. They fired and a duck fell. The dog responded and jumped into the water.
The dog,
however
, did not sink but instead walked across the water to retrieve the bird, never getting more than his paws wet
.
The friend saw everything but did not say a single word.
On the drive home, the hunter asked his friend, "Did you notice anything unusual about my new dog?"
"I sure did," responded his friend. "He can't swim."