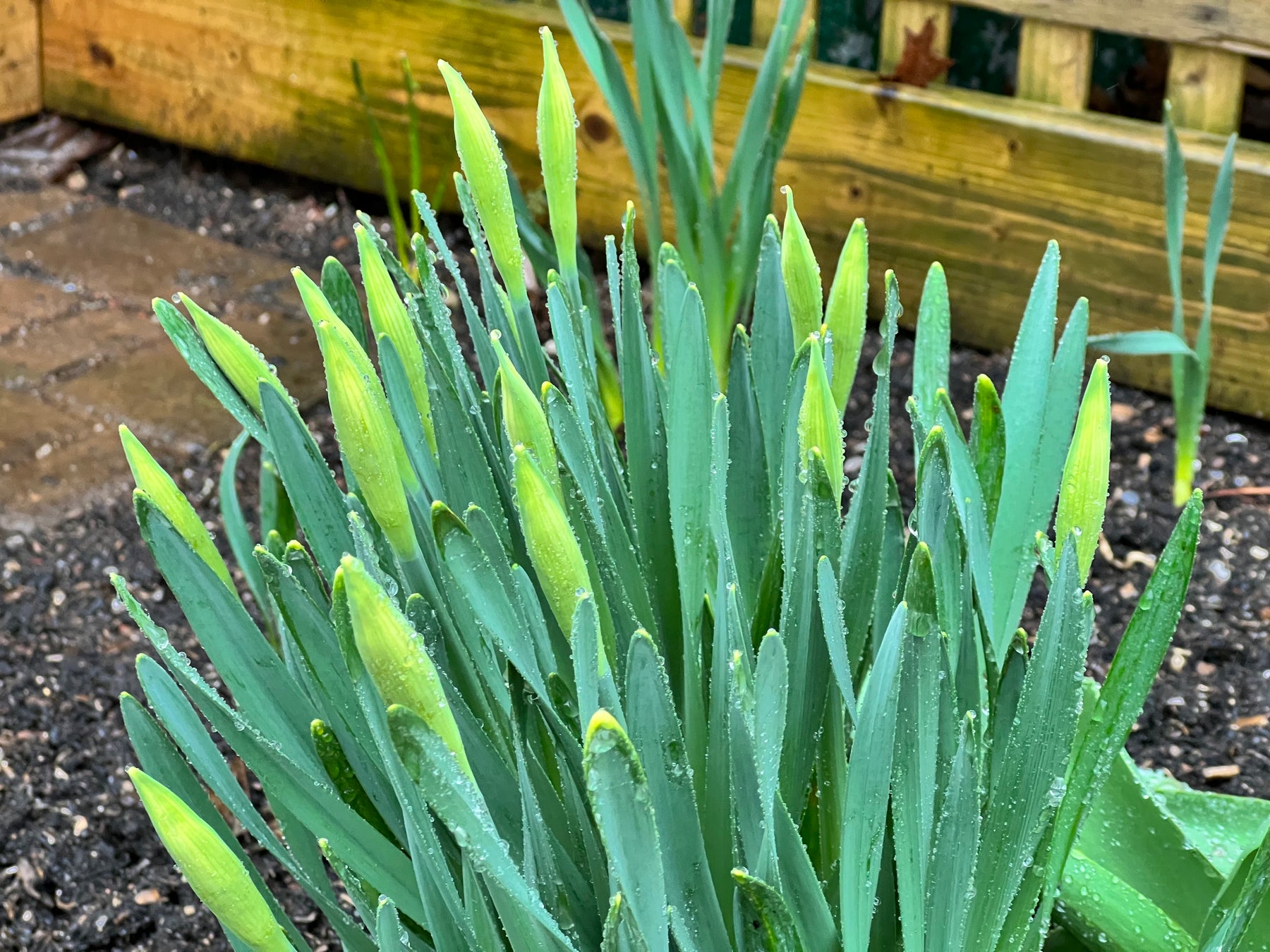 Great to See + What We Need is Love + Jail Break
Good Morning from Warren Grove, Prince Edward Island 
Put the kettle on, this is a journey of thread pulling today.
While the rain beats its soft rhythm on the metal roof above it reminds me of the nourishment it brings the spring flowers waiting to burst forth. After resting and waiting our daffodils are pushing to show off their trumpets. 
"It's spring fever. That is what the name of it is. And when you've got it, you want—oh, you don't quite know what it is you do want, but it just fairly makes your heartache, you want it so!" ~ Mark Twain
Positive Local News
"Reconciliation requires changes of heart and spirit, as well as social and economic change. It requires symbolic as well as practical action."
~ Malcolm Fraser
The P.E.I. legislature has voted unanimously to urge the federal government to change the name of the Confederation Bridge to Epekwitk Crossing. 
P.E.I. Premier Dennis King put forward the motion on Friday, with support from the leaders of the Official Opposition Green Party and the Liberal Party. 
Epekwitk, pronounced ehb-uh-gwihd, is the original name given by the Mi'kmaq for the land now known as Prince Edward Island.
Thank you, CBC for the story. Watch Premier Dennis King in the Prince Edward Island legislature speak of the proposed change. 
"We are seeing healing among the stolen generations, and initiatives which are enabling Indigenous people to make their distinctive contribution to our national life." ~ Malcolm Fraser
Kevin Lamoureux is committed to reconciliation and contributing to an even better Canada for all children to grow up in.  Kevin is the Associate Vice-President Of Indigenous Affairs at the University of Winnipeg. 
A fantastic speaker, I encourage you to watch.
The Truth and Reconciliation Committees: Calls to Action
Canada's first prime minister, Sir John A. Macdonald, in 1883: "When the school is on the reserve the child lives with its parents, who are savages; he is surrounded by savages. Indian children should be withdrawn as much as possible from the parental influence."
+
"I want to ask you to get comfortable with discomfort. If Canadians want reconciliation, they can't turn away." Jesse Wente, Journalist
=
"I've been searching for ways to heal myself, and I've found
that kindness is the best way." ~ Lady Gaga
The grass is growing and cows will soon be make their jail break to grazing on the land. I can't imagine that they could be any happier; unless someone who is into cow love would want want to install one of these. 
"Until one has loved an animal a part of one's soul remains unawakened."
~ Anatole France
Reading "The last phone boxes: broken glass, cider cans and – amazingly – a dial tone an article by Sophie Elmhirst" in the UK Guardian reminded me of travelling with Shirley in England and Scotland in 2014. We are looking forward to going back sometime. We would love to visit Wales and Ireland, as well. 
Reading the article I learned the traditional red phone box was voted in 2015 the greatest British design of all time, ahead of the Routemaster bus, the Spitfire, the union jack and Concorde.
At their peak, in the mid-1990s, the British population of phone boxes was about 100,000. Now, there are just over 20,000 working boxes left.  
A neat idea; converting a phone box into an aquarium with live goldfish, part of the Lumiere London arts festival, 2018. Photograph: Stephen Chung/Alamy
PEACE FOR UKRAINE! Keep the prayers and the candles lit! 
War / No More Trouble by Bob Marley
We don't need, no more trouble
We don't need, no more trouble
We don't need, no more trouble
We don't need, no, no, no more trouble
To guide and protect us on
If you're up look down from above
Help the weak if you are strong, now
We don't need, no more trouble
We don't need, everybody saying, we don't need
Speak happiness (sad enough without your woes)
Come on and speak of love (we're sad enough without your foes)
We don't still need 'bout trouble
If you know what we really need is love
Oh, we don't need, we don't need, we don't really need, no more trouble
We don't need, no more trouble (we don't need, we don't need)
I will have a weekend of gratitude knowing that I live in peace. I hope you do as well. We have subscribers on our list from Ukraine and Russia, we think of you as we send this. 
With love from Prince Edward Island
Bruce + Mille
"Animals are such agreeable friends - they ask no questions; they pass no criticisms." ~ George Eliot
I am having technical challenges with my new blog, A Bunch of Good Things. I planned on launching this weekend; sorry it looks like I have to postpone till next weekend. If you have already signed up, a big thank you. If you haven't, you can sign up here. 
ps. Your Morning Smile