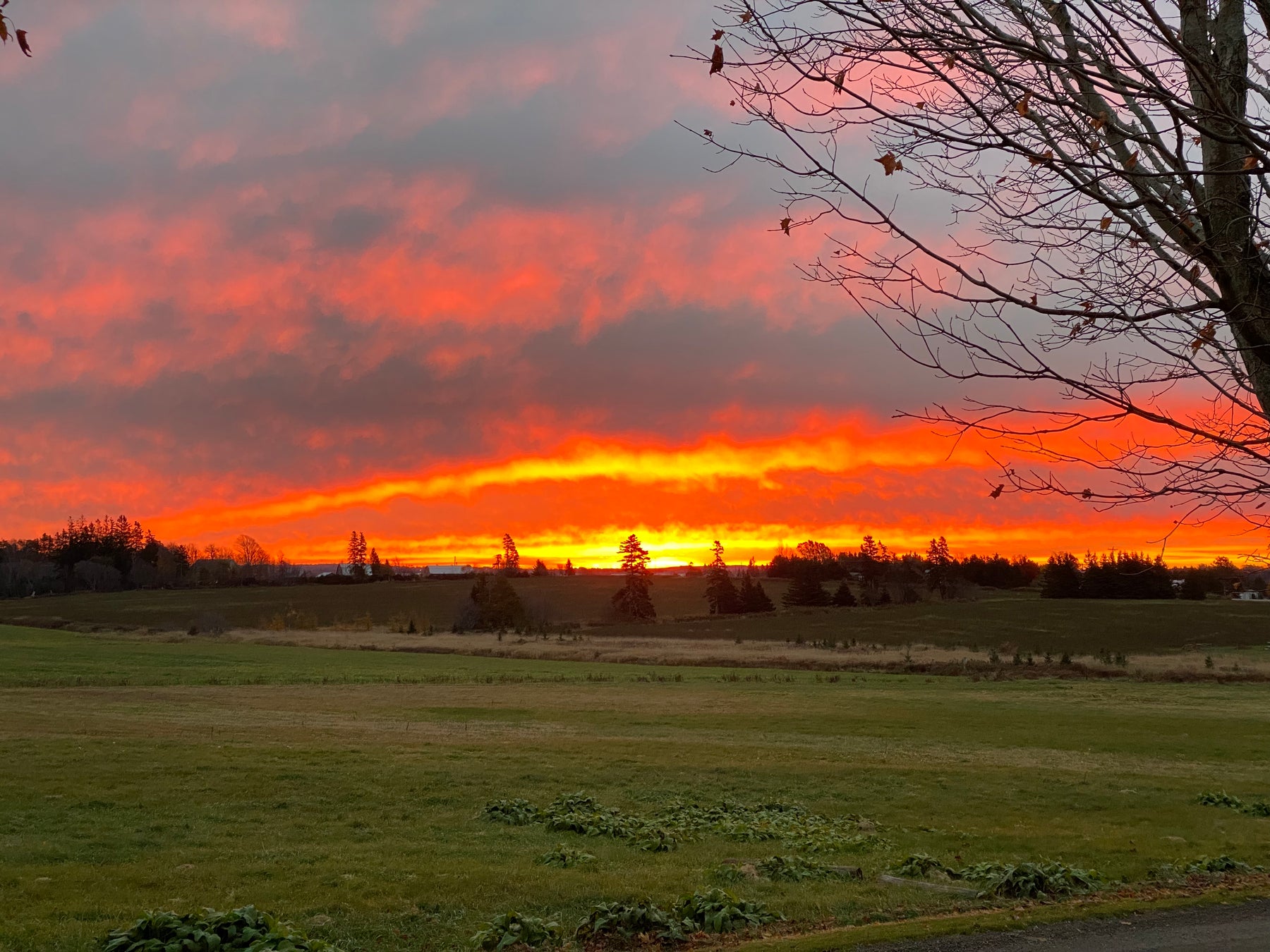 5,4,3,2,1 + Live It, Breathe It + A Great Ruler
Good Morning from Warren Grove, Prince Edward Island
I sit and write while waiting for the morning light.
Changing the clocks back always throws me off. But I'd rather see the sun earlier in the morning than later in the day.
"I have always been delighted at the prospect of a new day, a fresh try,
one more start, with perhaps a bit of magic waiting
somewhere behind the morning." ~ J. B. Priestley
Thinking more and more about writing these days; a new skill to learn and hone. Also, thinking about dementia, which frightens me, but I won't be going there today.
"Spring passes, and one remembers one's innocence. Summer passes, and one remembers one's exuberance. Autumn passes, and one remembers one's reverence. Winter passes, and one remembers one's perseverance."
~ Yoko Ono
I want to increase my writing output and improve my skills with writing and thinking, so I searched for prompts to inspire. 
I am not sure where I found this prompt, but I plan is to do this exercise of intentionality this weekend and journal about it.
Heading outside, I will go through this list:
What are five things you can see?

What are four things you can touch?

What are three things you can hear?

What are two things you can smell?

What is one thing you can taste?
"Life is an opportunity; benefit from it. Life is beauty; admire it.
Life is a dream; realize it. Life is a challenge; meet it.
Life is a duty; complete it.
Life is a game; play it. Life is a promise; fulfill it. Life is sorrow; overcome it.
Life is a song; sing it. Life is a struggle; accept it.
Life is a tragedy; confront it.
Life is an adventure; dare it. Life is luck; make it.
Life is too precious, do not destroy it. Life is life; fight for it." ~ Mother Teresa
Radio Lento is a project by Hugh Huddy and Madeleine Sugden, busy parents to two children. During the lockdown, they took it upon themselves to live with intentionality. Their podcast features sounds of landscapes around the UK – no music or talking. Episodes last between 15 and 90 minutes. All are soundscapes of places the family has discovered on walks and other trips. This one is for Sian and called Night Beside a Stream in Wales. Another is Rising Tide in a Rock Garden; and another The Birds That Sing on the Cusp of Night.
"The best time to plant a tree was 20 years ago.
The second best time is now." – Chinese Proverb.
While looking for writing prompts, I found this. Thinking it is never too late to start such a tradition. And with Thanksgiving and Christmas coming, it might be a good time to start.
Family Treasure
1) Get a blank book
2) Ask each family member over 50 to write down life advice that their descendants in 500 yrs should know
3) Keep passing it down. You now have a family treasure that gets more useful over time.
I will look for the journal with binding that might last the generations forthcoming.
"Life is too deep for words, so don't try to describe it, just live it."
~ C. S. Lewis
Pet owners know that their fur babies are an essential part of life. I appreciate the excellent work of Warrior Canine Connection. So if you enjoy watching puppies, take a peek at this live stream.
If you love animals and live streams, take a peek at this fantastic website.
Puzzle: I have forests but no trees. I have lakes but no water. I have roads but no cars. What am I? Answer at the bottom.
I spent some time looking at old photos this week.  And I came across a photo I took of a Salvador Dali sculpture in Venice, late March 2009.
A few blogs back, I shared a funny video of Salvador Dali on "What's My Line?" Today, below is Walt Disney on "What's My Line?" Walt is around the 18 minutes mark.
These two creative geniuses were friends. I love or at least I assume there is less competition in the creative arts. And a great deal more room for celebration and collaboration.
Dalí and Disney were both friends and would-be colleagues. ... "And Disney, upon reading *The Secret Life of Salvador Dalí,*became a fan of Dalí's. He even wrote him a fan letter." The pair began collaborating on an animated short film, Destino, in 1945.
The film tells the tragic love story of Chronos, the personification of time, who falls in love with a mortal woman. The two float across the surrealist landscapes of Dalí's paintings. The poetic, wordless animation features a score by Mexican composer Armando Dominguez performed by Dora Luz.
Believe it or not, it took around 50 years to finish an animated film that is only six minutes and 40 seconds long. Financial pressures caused by World War II and other commitments forced the studio to shelve "Destino." Hence it languished in the Disney vault for decades.
Interesting creativity.
Pink Floyd Version of Destino
Speaking of creativity, let's dance. One of my favourite U2 songs, but with a little twist, a lot of twist. Have fun. 
Before you go.
I need to take care of business. Take a peek at our offerings this holiday season. To have the best experience with this visual catalogue, enlarge the screen area in the lower right-hand corner of the catalogue. Share with friends if you are so inclined. Thank you in advance! 
In the spirit of taking care of business, please forgive me now.
We will be sending out unique newsletters for the next three weeks at least four times a week. Unsubscribe at any time. I hope you understand this time of year  is busy time. And as a business, we need to send reminders to those who need reminding to send their orders in asap.
In three week we will return to our regular Recipe Wednesday's and Saturday Blog newsletters.
Off to the farmers market. 
May joy be your constant companion this weekend and more than an acquaintance next week.
With love from Prince Edward Island,
Bruce + Mille
Puzzle: I have forests but no trees. I have lakes but no water. I have roads but no cars. What am I? Answer at the bottom.
Answer to the Puzzle: Map
ps. Your Morning Smile
Once upon a time, there lived a king who was only 12 inches tall...
He was a terrible king, but he made a great ruler.