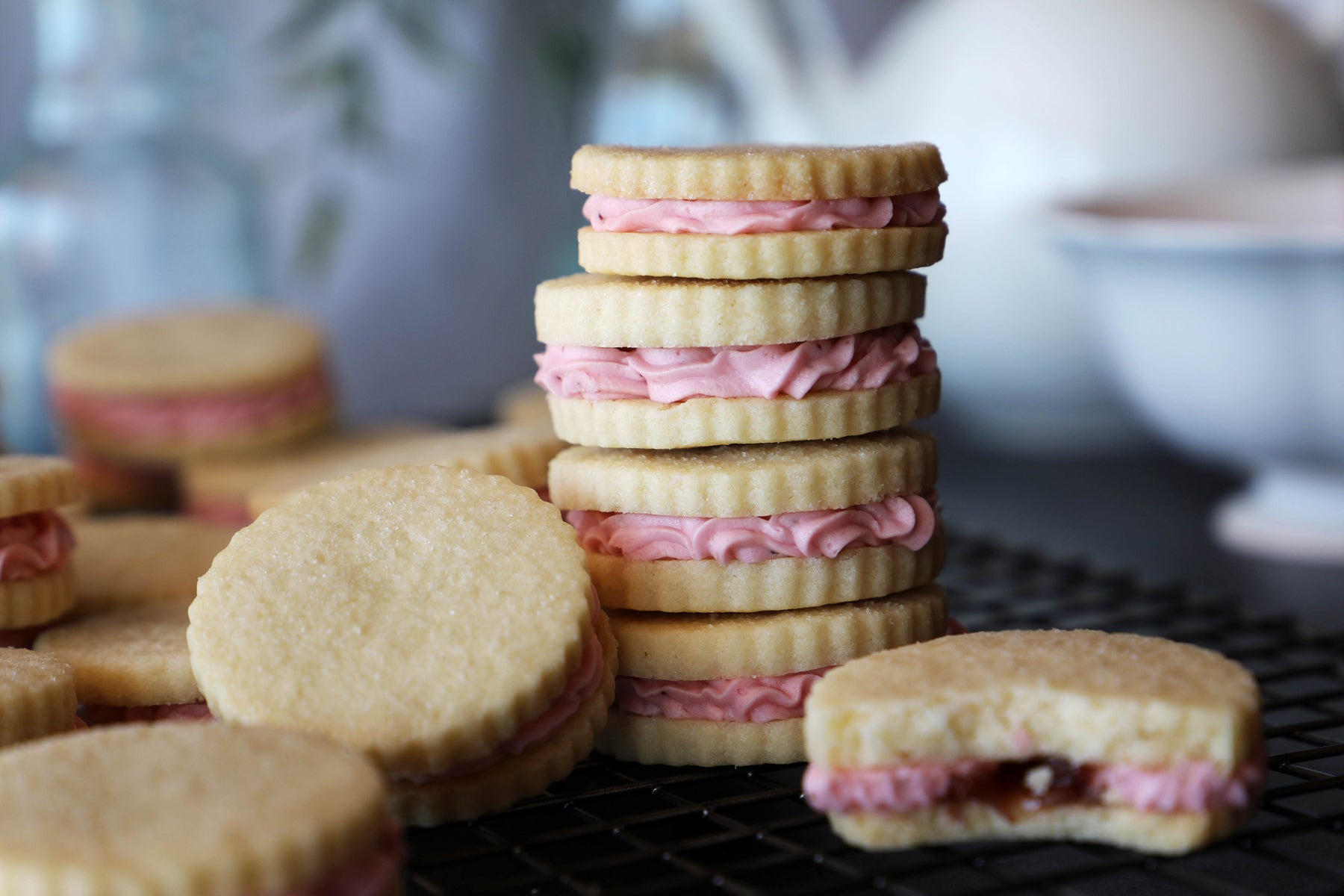 Strawberry Shortbread Sandwich Cookies
22-24 sandwich cookies

These strawberry sandwich cookies are a delight to the senses. A sweet and light strawberry frosting and Strawberry Grand Marnier preserve filling, sandwiched between two shortbread cookies sprinkled with sugar. These are a perfectly sweet treat to make an occasion feel special.

Cookies:
1 cup unsalted butter
1 cup white sugar, plus 2 Tbsp
1 large egg
2 tsp vanilla
2 ½ cup flour
½ tsp salt

Frosting:
¼ cup unsalted butter
¼ cup shortening
¼ cup Strawberry with Grand Marnier Preserves
½ tsp vanilla
2 cups icing sugar, sifted
Pinch salt

- In the bowl of a stand mixer, or with a hand mixer, beat the butter, 1 cup sugar, and vanilla until light and creamy. Beat in the egg until completely combined. Gently stir in the flour and salt into the butter mixture. The dough will start to come away from the sides of bowl when it's ready. Divide the dough in half and roll out each half in between two pieces of parchment paper. Keep the dough between the parchment and place in the fridge for 30 minutes to chill.
- Preheat oven to 350°.
- Cut cookies using a 2 ½- inch round cutter. Gently dip the top of each cookie in the extra 2 Tbsp of sugar. Place about ½ inch apart on a large parchment lined baking sheet. Bake 10-12 minutes or until slightly brown on the edges. Cool completely before making the cookie sandwiches.
- While the cookies are cooling make the strawberry frosting.
- In a stand mixer, or with a hand mixer, beat together the unsalted butter, shortening, vanilla, and Strawberry with Grand Marnier until combined, light, and fluffy. Stir the salt into the icing sugar and add to the butter mixture one cup at a time. Beat all together until fluffy.
- Once cookies are completely cool, pipe a border of strawberry frosting on the outside of on of the cookies. In the middle of the cookie, pipe a small amount of Strawberry with Grand Marnier Preserves. Place another cookie on the top to complete the sandwich. Cookies will last 3-5 days in a sealed container.