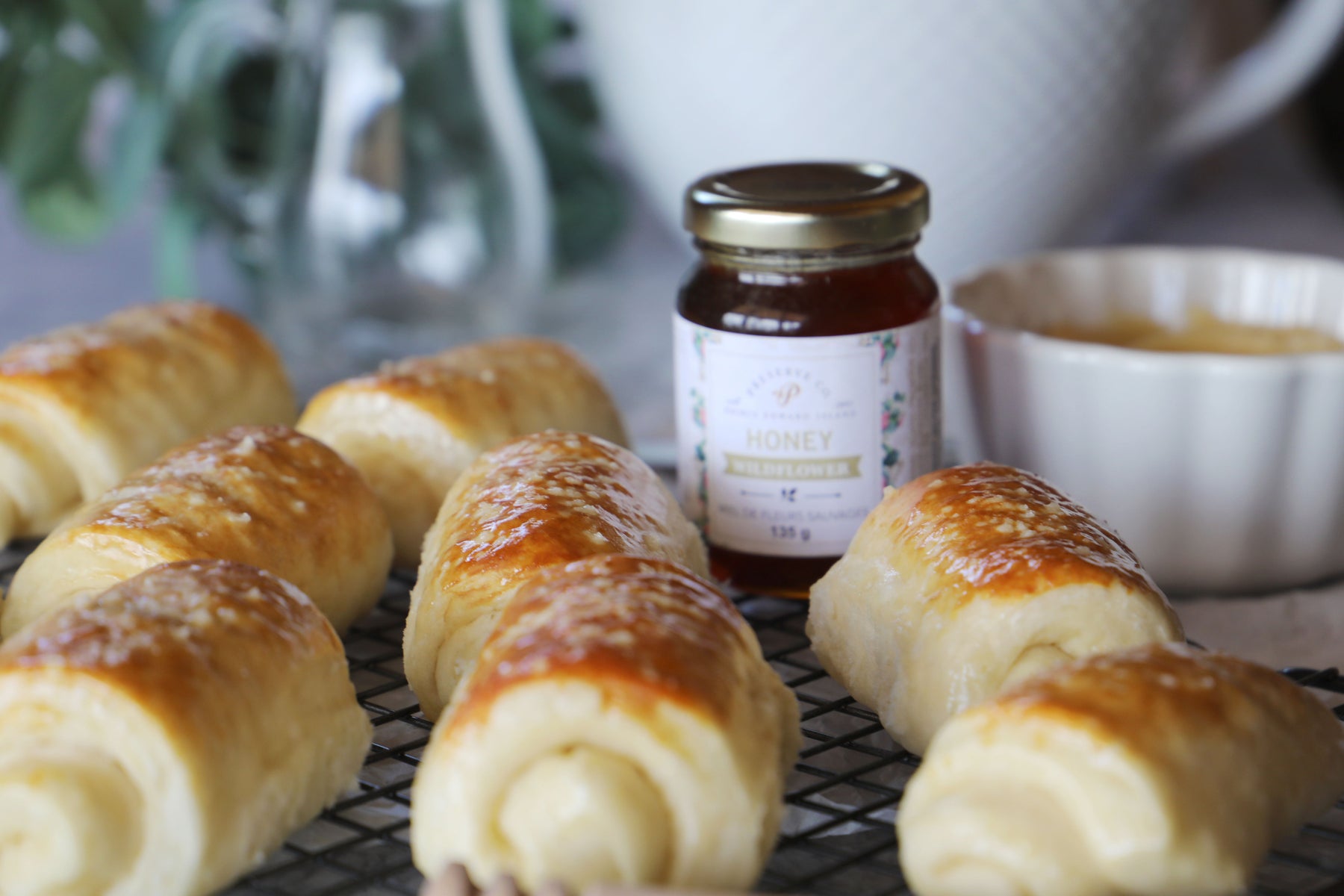 Salted Honey Butter Parker House Rolls
15 rolls

These easy, delicious parker house rolls are a recipe you will want to keep on hand. They are soft and pillowy and will be an addition to your dinner table time and time again. With Wildflower Honey in the dough and in the butter, these are sweet and salty delights that will be gone fast!

1 package instant yeast (2 ¼ tsp)
1 cup warm water
1 tsp honey
2 ½ cups all purpose flour
½ tsp salt
Course salt for garnish, optional

1 cup salted butter, softened
½ cup Wildflower Honey

- In the bowl of a stand mixer combine the flour, salt, and yeast. (If you are using active dry yeast, you must activate the yeast before adding it to the flour. Instant yeast can be added in dry and does not take as long to activate). Add your honey into your warm water to dissolve it and add it to the flour mixture. Stir it together with a spoon before switching to the dough hook attachment. Once roughly combined switch to the dough hook and knead at low speed for 5-7 minutes. If your dough seems too wet, add in an extra Tbsp of flour. Once kneaded, place in a bowl and cover with a damp towel and set aside in a warm spot to rise for 30 mins to 1 hour. It will almost double in volume.
- While your dough is rising, make your salted honey butter. In the bowl of a stand mixer, or with a hand mixer, beat the softened butter with the honey. Take about ¼ cup of this butter and set it aside. This ¼ cup will be melted and brushed on the dough before cutting and shaping the rolls.
- Once your dough has risen, place your dough on a lightly floured surface. Roll out dough to approximately 9x13 inches. You want the dough to be ¼ inch thick.
- Melt the ¼ cup of butter that you set aside. Brush the dough with 3 Tbsp of the butter going all the way to the edges. Horizontally cut the dough into 3 strips, and vertically cut it into 5. This will make you have 15 pieces. It does not have to be exact, but you want to make sure you can cut the dough into 15 rectangular pieces.
- Once the dough is cut, take each piece, and roll it up starting on the short side. The melted butter will help the dough stick together. Place rolls on a parchment lined baking sheet and set aside for 20 minutes to rise again. They can be spread out, but make sure they are no closer than 1 inch apart. While they are rising, preheat your oven to 400°.

- Brush each roll with a little bit of the melted butter left from your ¼ cup. Bake for 15-20 minutes, or until golden brown on the top and puffed up. If you have any melted butter left, brush that on once the rolls come out of the oven, and sprinkle with course salt. Serve warm. Rolls will keep for up to 2 days.