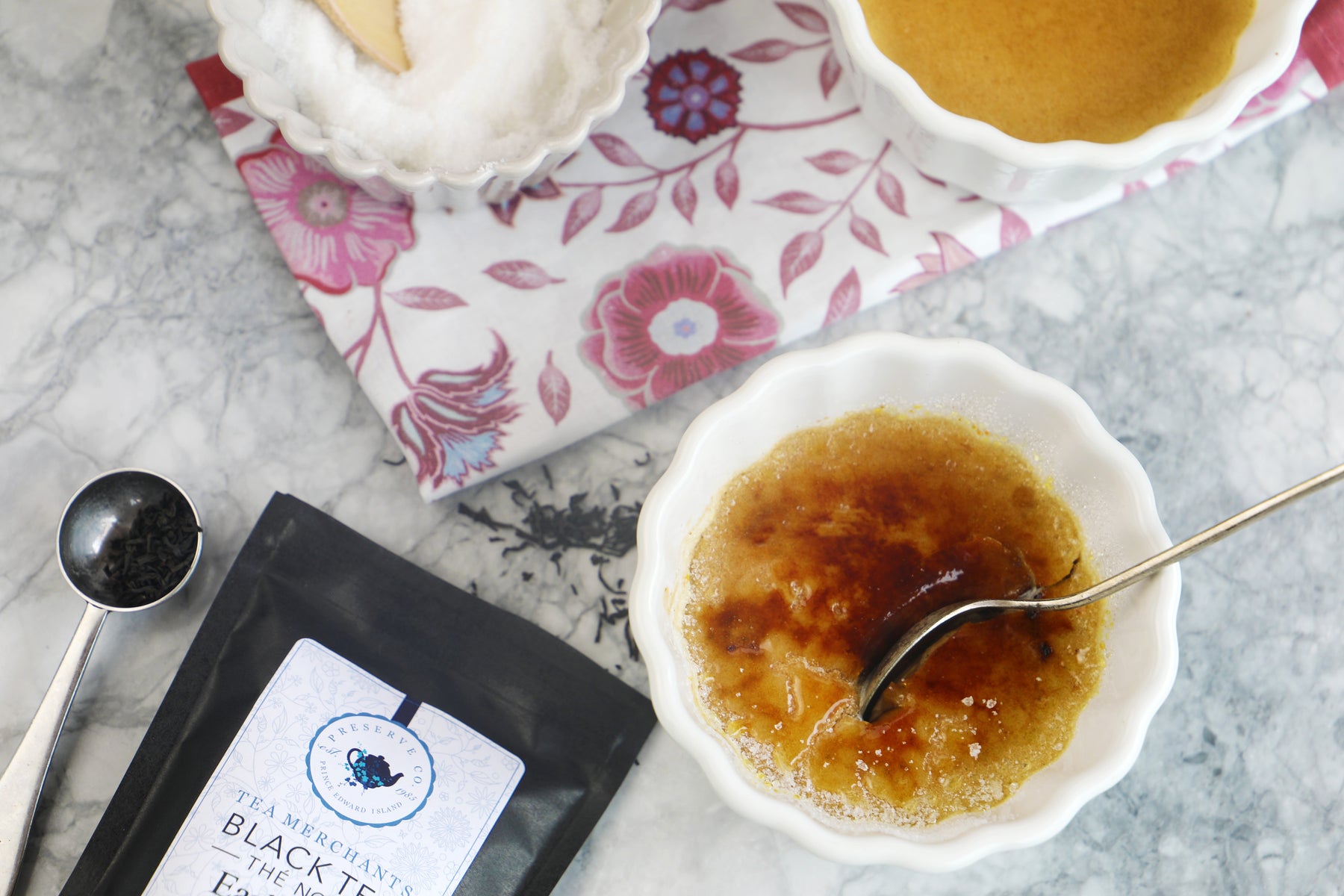 Preserve Company Earl Grey Crème Brulee
Crème Brûlée is an incredibly simple, yet impressive, dessert that only takes a few ingredients...most of which you probably already have in your pantry! 
Infusing this legendary custard with Earl Grey Tea gives it a bittersweet, aromatic crème, thanks to the tea's citrus-y Bergamot.  It contrasts so nicely with the sweet, thin glassy layer of caramelized sugar crust that is very satisfying to crack open!  It is truly a delicious experience.
Ingredients:
6 tsp Preserve Company Earl Grey Loose-Leaf Tea
2 cups heavy whipping cream
2 tsp vanilla bean paste
5 egg yolks
2/3 cup granulated sugar
Sugar for caramelizing
Directions:
- Preheat oven to 325°
- Bring the cream and Earl Grey Tea to a simmer, and simmer for 12 minutes. Stir in vanilla bean paste after simmering.
- While cream is simmering, whisk together your egg yolks and 2/3 cup sugar until lighter in colour. Once cream is done, gently temper your eggs with the cream mixture. Once your custard is all combined, pour into 4 medium sized ramekins. You can pour this into any sized oven safe dessert dish, you may just get more or less depending on the size. You may have to adjust baking times as well.
- Place dishes in a tall sided baking pan and pour hot water in the pan until its up to the middle of the dishes. Carefully place in oven, and bake for 30-40 minutes, or until custard is set but slightly jiggly in the middle. If the tops of the custard start to brown, cover the pan with tinfoil and continue baking.
- Once done, make sure to chill your custard completely. When ready to serve, sprinkle a layer of granulated sugar on the top of the custard. With a kitchen torch, slowly brulee the sugar until it forms a caramelized crust. If you do not have a kitchen torch, this can be done in the oven under a broiler. Just be careful to cool them again after bringing them out of the oven, as the sides may get hot as well.
- Serve right away. Custards can be kept refrigerated for up to 3 days before completing the previous step.