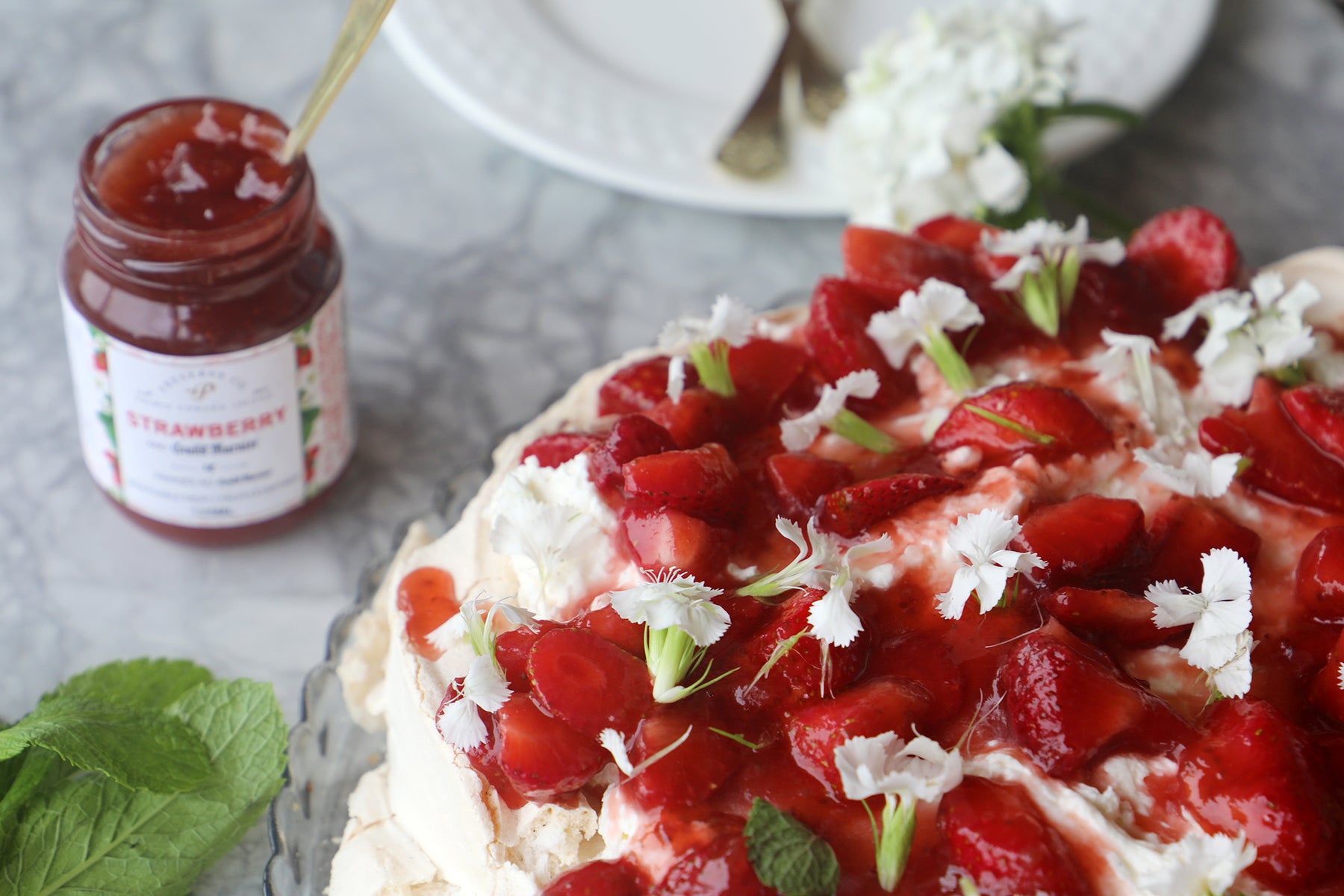 Preserve Company Strawberry Grand Marnier Pavlova
Pavlova is light, sweet, naturally gluten free and has loads of texture in a single bite. It's made with a crisp meringue shell and can be dressed up with assorted toppings.  We love it with piles of fresh fruit, whipped cream, mint, and our handmade artisan Strawberry Grand Marnier Preserves! 
Ingredients:
1  9" Pavlova

6 Egg whites (room temperature)
1 ½ cups granulated sugar
2 Tbsp. Cornstarch
1 Tbsp. Vinegar
1 Tbsp. Vanilla bean paste
6-8 Strawberries
1 ½ cups whipping cream
¼ cup Strawberry Grand Marnier preserves
2 Tbsp. Grand Marnier (optional)
Directions:
•    Preheat oven to 350 °.
    •    Make sure that the mixer bowl you are using to whip your pavlova in is free from all grease.  Run a halved lemon over the inside of the bowl to get rid of any grease.
    •    In the bowl of a stand mixer, beat egg whites with whisk attachment until soft peaks form.   Add sugar slowly into the egg whites while mixer is beating, and beat until it turns glossy. This may take up to 10 minutes to incorporate fully.
    •    Once whites are glossy, turn off your mixer, and fold in the cornstarch, vinegar, and vanilla bean paste.
    •    On a parchment lined baking sheet, spread mixture into a 9" circle.
    •    Once pavlova is in the oven, bring the temperature down to 300°, and bake for 1 hour.
    •    Once pavlova is out of the oven, let it sit at room temperature to cool down. Don't put the pavlova in an area that is too cool, as it will cause it to cool down too quickly, and it will fall in on itself too much.
    •    Pavlova is best made 8 hours before serving, or the night before. To store pavlova until ready to decorate and serve, keep it in an airtight container on the counter.
    •    To decorate, whip up your cream to soft peaks and spread on the top of the pavlova. Melt your preserves and Grand Marnier together, and pour over cut up strawberries. Place strawberries on top of the whipped cream on your pavlova, and serve immediately.