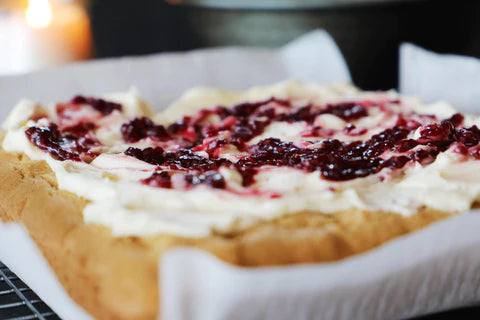 Raspberry Cream Cheese Blondies
Preheat oven to 325°
Line an 8"x8" baking pan with parchment paper and coat lightly with nonstick cooking spray.
Ingredients 
¾ cup melted unsalted butter
1 cup dark brown sugar
¾ cup white sugar
2 eggs
2 tsp vanilla
2 cups all purpose flour
1 tsp baking powder
½ tsp salt
1 package cream cheese (250g)
¼ cup + 2 Tbsp icing sugar, sifted
1 Tbsp heavy cream
¼ cup Raspberry with Champagne Preserves
Method
In a medium mixing bowl, combine the flour, baking powder, and salt. Set aside.
In a separate mixing bowl, whisk together the melted butter, brown sugar, and white sugar.
Whisk in eggs one at a time and stir in the vanilla until combined.
Stir the dry ingredients into the wet and pour the mixture into the prepared baking dish. The batter will be thick, so you may need to spread it to the edges of the pan with a spoon or an offset spatula.
Bake blondies for 25-30 minutes, or until the top is slightly brown and the blondies are set in the middle.
While the blondies are baking, beat the cream cheese, icing sugar, and heavy cream until light and fluffy. If you prefer a sweeter dessert, add an extra tbsp or two of sifted icing sugar.
When the blondies finish cooking, cool completely before topping with your cream cheese mixture.
Spoon Raspberry with Champagne Preserves all over the cream cheese mixture, and using a butter knife or spoon, swirl the preserves with the cream cheese.
Blondies will last 3-5 days in the fridge in a sealed container. You can also freeze the blondies without the cream cheese and raspberry preserves for up to 3 months. Defrost on the counter overnight before decorating.
Enjoy with a hot cup of coffee or tea and a good friend!