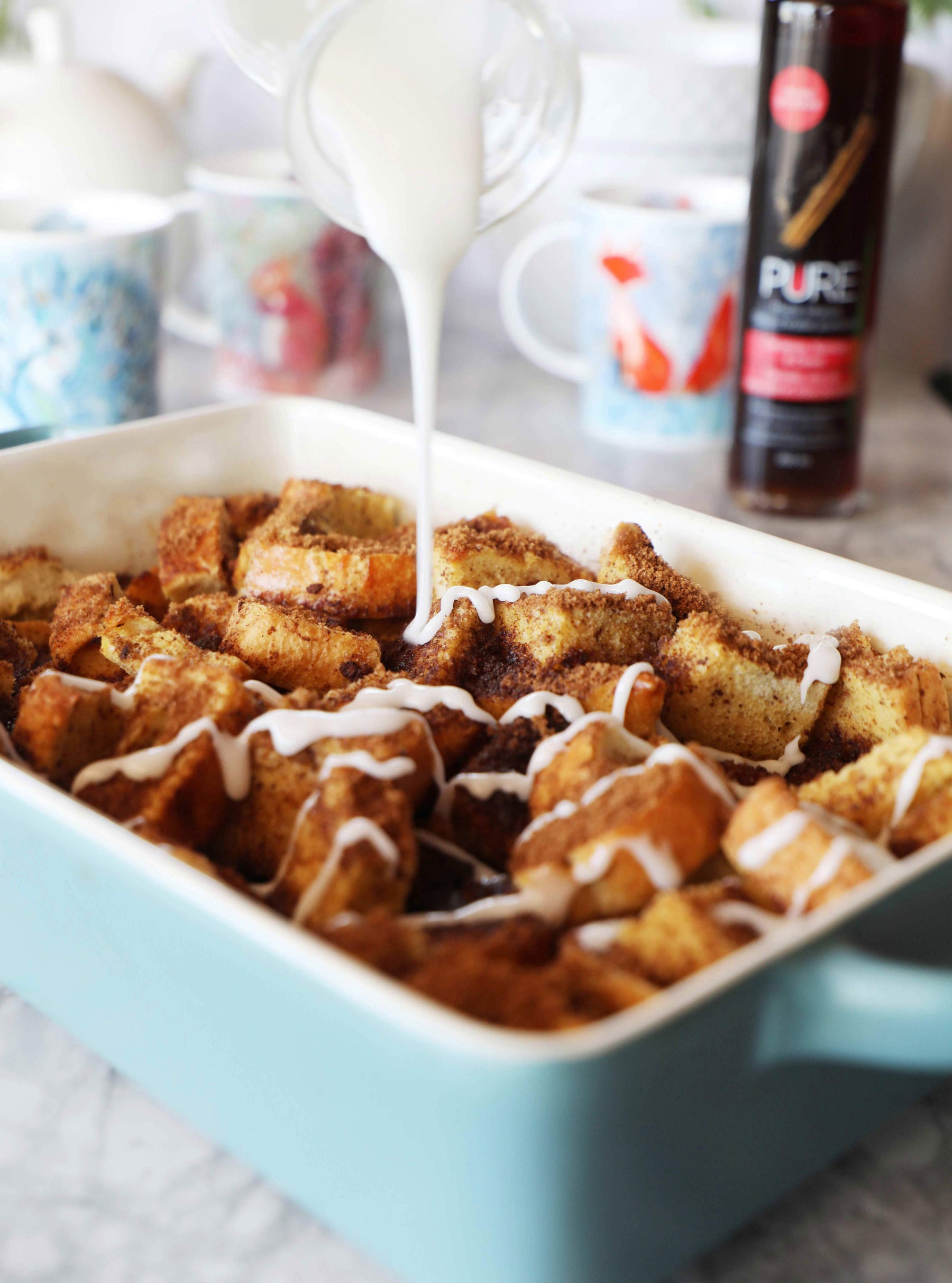 Overnight French Toast Bake
9x13-inch pan
This decadent French toast bake is an amazing way to start the day. Using Cinnamon, Nutmeg, and Cloves Infused Maple Syrup this simple, yet delicious, breakfast will be a normal indulgence.

1 loaf sourdough bread (approximately 8-10 slices)

6 eggs
½ cup heavy cream
½ cup milk
½ cup Cinnamon, Nutmeg, and Cloves Pure Infused Maple Syrup
1 tsp cinnamon
1 tsp vanilla

2 Tbsp dark brown sugar
1 tsp cinnamon
¼ tsp cloves

1 cup sifted icing sugar
1-2 Tbsp milk

- Cut up your bread into bite size pieces. Let these sit out on a baking sheet for a few hours to dry out a bit.
- In a medium size bowl whisk together the eggs, heavy cream, milk, maple syrup, cinnamon, and vanilla.
- Spread bread chunks all over the bottom of a 9x13 baking dish. Pour the egg mixture over top of the bread, and cover with plastic wrap. Place dish is fridge to chill overnight.
- Preheat oven to 350°.
- Stir together the brown sugar, cinnamon, and cloves. Remove the plastic wrap from the baking dish and sprinkle on the sugar mixture evenly. Cover baking dish with tin foil and bake for 40 mins. Remove the tin foil and bake for an additional 15 minutes.
- While French toast is baking, stir together the icing sugar and milk to make a sweet drizzle. Start by adding only 1 Tbsp of milk, and gradually add more to get the desired consistency.
- Once French toast is out of the oven, let cool for a few minutes, then drizzle the icing on the top and serve immediately.