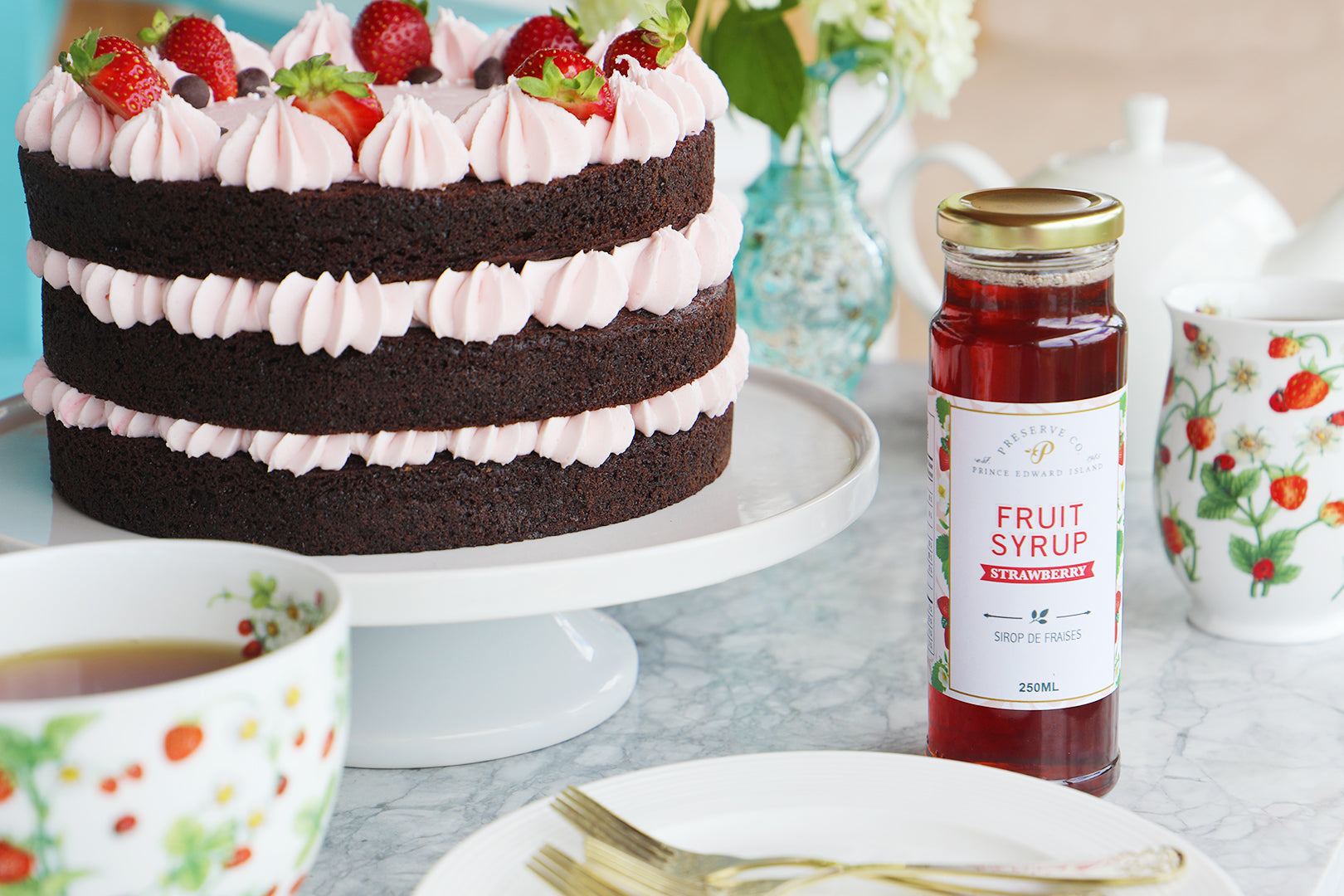 Preserve Company Strawberry Chocolate Cake
3 layer 8" cake

Cake:
3 cups flour
2 cups sugar
1 cup cocoa powder
1 Tbsp baking soda
1 tsp salt
4 eggs
1 ½ cup canola oil
1 Tbsp vanilla
2 cups buttermilk

Strawberry Icing:
1 cup unsalted butter, softened
1 cup shortening
8 cups sifted icing sugar
3-4 Tbsp Strawberry Fruit Syrup
strawberries for inside layers, and for garnish

- Preheat the oven to 350°
- Prepare 3 8" pans by spraying each with non-stick cooking spray, and lining with parchment paper.
- In a big bowl sift together the flour, sugar, cocoa powder, baking soda, and salt. Set aside.
- In a separate bowl whisk together the eggs, canola oil, vanilla, and buttermilk.
- Mix your wet ingredients into your dry and incorporate completely. You do not want to over-mix it, but you want to make sure there are no lumps. Pour the batter between the prepared pans evenly, and place on the middle rack of the oven.
- Bake layers for 35-40 minutes, or until a toothpick inserted comes out clean. Let cakes cool inside of the pans for 10-15 minutes, then outside the pans until completely cool. I like to set the layers in the fridge for 30 minutes before icing the cake, as it helps prevent too many crumbs.
- While layers are cooling, make your strawberry icing. Beat your unsalted butter and shortening in the bowl of a stand mixer until light and fluffy, using the whisk attachment. Gradually incorporate icing sugar and strawberry syrup into your butter mixture. (For each addition of 2 cups of icing sugar, use 1 Tbsp of strawberry syrup. You may have to play with the amount of strawberry syrup depending on how thick or thin you want your frosting). Whip your frosting
until light and fluffy.
- Once cake layers are cool, cut off the tops of the layers to make sure they are flat and level. (Save the cake scraps to use in trifles, or just as a snack!)
- To assemble the cake, place the first layer of cake on the cake plate, or cake board. Spread a thin layer of frosting all the way to the edges. Slice strawberries and place them over the frosting. Fill a piping bag fitted with a large star tip with frosting and pipe a row of stars all along the edge of the cake.
- Place the second layer of cake on top of the frosting. Repeat the step above. Place the third layer on top and spread a thin layer of frosting to cover the top. Pipe more stars along the edge, and place halved strawberries in between every second star. The sides of this cake are left bare, but you can see the frosting stars between each layer. Serve immediately, or place in fridge until ready to serve.