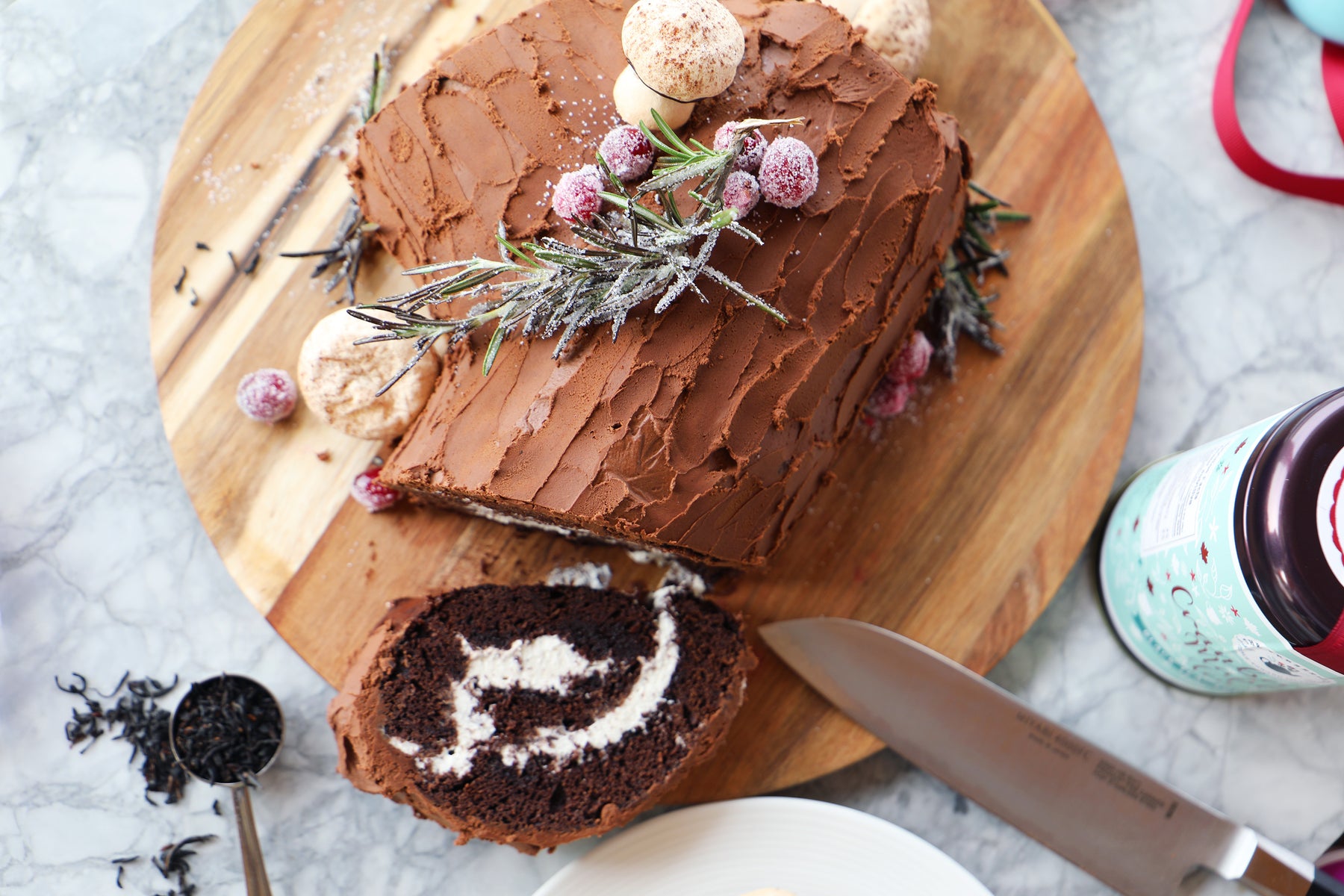 Preserve Company Chocolate Yule Log
This classic Yule Log Cake, also known as a Bûche de Noël, is a tender chocolate sponge cake filled with whipped cream, covered with whipped chocolate ganache and features our loose leaf Cranberry Maple Tea Syrup. It's delicious, festive and made completely from scratch! If you haven't tried making one yet the techniques are quite simple. Garnished with meringue mushrooms and rosemary this lovely holiday dessert is sure to be a showstopper!

Sponge cake:
4 large eggs
¾ cups sugar
½ tsp vanilla
½ tsp salt
2/3 cup flour
½ cup cocoa powder
1 ¼ tsp baking powder
1/3 cup sour cream
¼ cup melted butter
2 Tbsp milk

Filling:
1 cup heavy whipping cream
3 Tbsp Icing sugar
1 tsp Cranberry Maple Tea syrup

Cranberry Maple Syrup:
¼ cup sugar
¼ cup water
1 tsp Cranberry Maple Tea

Ganache:
6 oz. semi sweet chocolate
½ cup heavy cream

- Preheat oven to 325°, and line a 10x15 jelly roll pan with parchment paper and grease with baking spray
- In the bowl of a stand mixer, whisk together the eggs, sugar, vanilla, and salt until super light and fluffy, about 5 minutes on high speed.
- In a separate bowl sift together the flour, baking powder, and cocoa powder. In a different bowl stir together the melted butter, sour cream, and milk.

- Once eggs are lights and fluffy, gently fold in the dry mixture. Once mostly combined, fold in the butter mixture. Gently pour into lined baking sheet and bake for 22-28 minutes or until a toothpick inserted in the center comes out clean. Let the cake sit for 5 minutes. Place a tea towel on the counter and sift cocoa powder over it to cover it completely. Flip the cake out of the pan and onto the dusted tea towel. Gently roll up into a log and set aside to cool. You want it to be completely cool on the inside, as you are spreading whipped cream as the filling, and it
will melt if it is too warm.
- While cake is cooling, make the cranberry maple tea syrup. In a saucepan, heat together the water, sugar, and tea until sugar is completely melted and mixture is simmering. Simmer for 10 minutes, strain the tea leaves out, and chill in the fridge.
- Once cake is all cooled, make the filling. Whip together the heavy cream, sugar, and tea syrup until light and fluffy.
- To assemble the yule log, unroll the cake gently and brush the inside of the cake with tea syrup. Lightly spread on the filling on the inside. You want to make sure it is a thin layer, as if there is too much filling, it will squeeze out the sides and it will be more difficult to roll and frost. Roll up the cake gently. It is okay if it is not completely round! If the cake breaks, that is okay too! It will all look great once its covered in the chocolate ganache.
- Once rolled, cut a small piece, diagonally, from one of the ends. Place that piece on one of the sides. This is not necessary, but it does make it look more like a read Yule Log. Place the yule log in the fridge while you make the ganache.
- Heat up the heavy cream until it is almost simmering. Pour hot cream over chopped chocolate and whisk until smooth. Spread a very thin layer of ganache over the entire cake. This is just to seal in the crumbs, so you do not need very much. Once covered place back in fridge for 10 minutes to cool down. Once your cake is chilled, whip up your ganache until it lightens in colour slightly. Spread ganache over the cake. Using either an offset spatula, spoon, or fork make lines
down the cake to make it look like tree bark. Decorate with meringue mushrooms, sugared cranberries, and rosemary. Best served the same day as it is made. It will last for up to 2 days in the fridge, covered.
- To make meringue mushrooms whisk 2 egg whites, ¼ cup sugar, pinch of salt, ¼ tsp cream of tartar until stiff peaks form. Pipe small button shaped mounds for the mushroom caps, and small cones for the stems. Bake at 200° for 2 hours. Once 2 hours is up, turn the oven off, and leave the meringues in the oven overnight. To Assemble mushrooms, melt ¼ cup chocolate chips, and brush the melted chocolate on the bottom of the mushroom caps. Push the stems
into the caps and put aside to set completely.