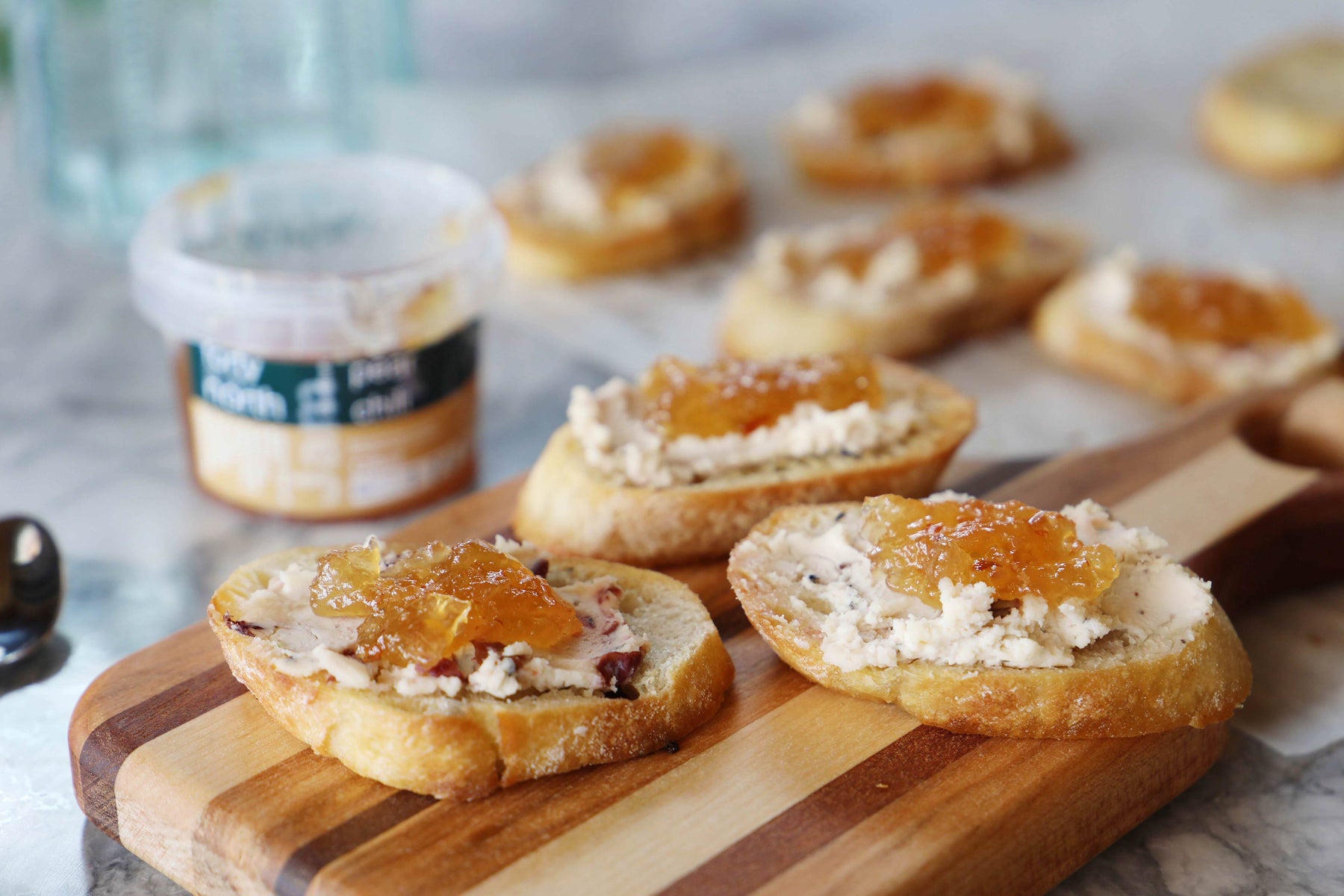 Pear and Chili Crostini
 16 appetizers
Using only a few ingredients you can whip up these appetizers easily! Once you have your crostini made, you can play around with different flavours of jams and types of cheese. These Pear and Chili crostini are the perfect combination of sweet and spicey. Your taste buds will thank you!

1 baguette (228g), sliced into 16 pieces
¼ cup olive oil
2 tsp Roasted Garlic Potato Pizzazz
120 ml Pear and Chili Jam
¾ cup (150g) soft cheese, I used cranberry and cracked pepper flavour soft cheese

- Preheat oven to 400° and line a baking sheet with parchment paper.
- Slice baguette into 16 slices, and line up on the baking sheet. Combine the olive oil and Roasted Garlic Potato Pizzazz in a small dish. Brush the tops of each slice of baguette with olive oil. Flip the bread over and brush the other side with olive oil as well. Place in preheated oven for 10 minutes. Remove pan and flip each piece of bread over, and place back in the oven for another 5 minutes. Let crostini cool to room temperature.
- Once the crostini have cooled, spread approximately 1 ½ tsp soft cheese on top of each piece. Stir the Pear and Chili Jam to help it spread easier. Spoon approximately 1 tsp of jam on top of each crostini and spread it slightly.
- Crostini can be made ahead of time and kept in a sealed container at room temperature. Add your toppings right before serving. The bread will become soggy the longer the prepared crostini sit.