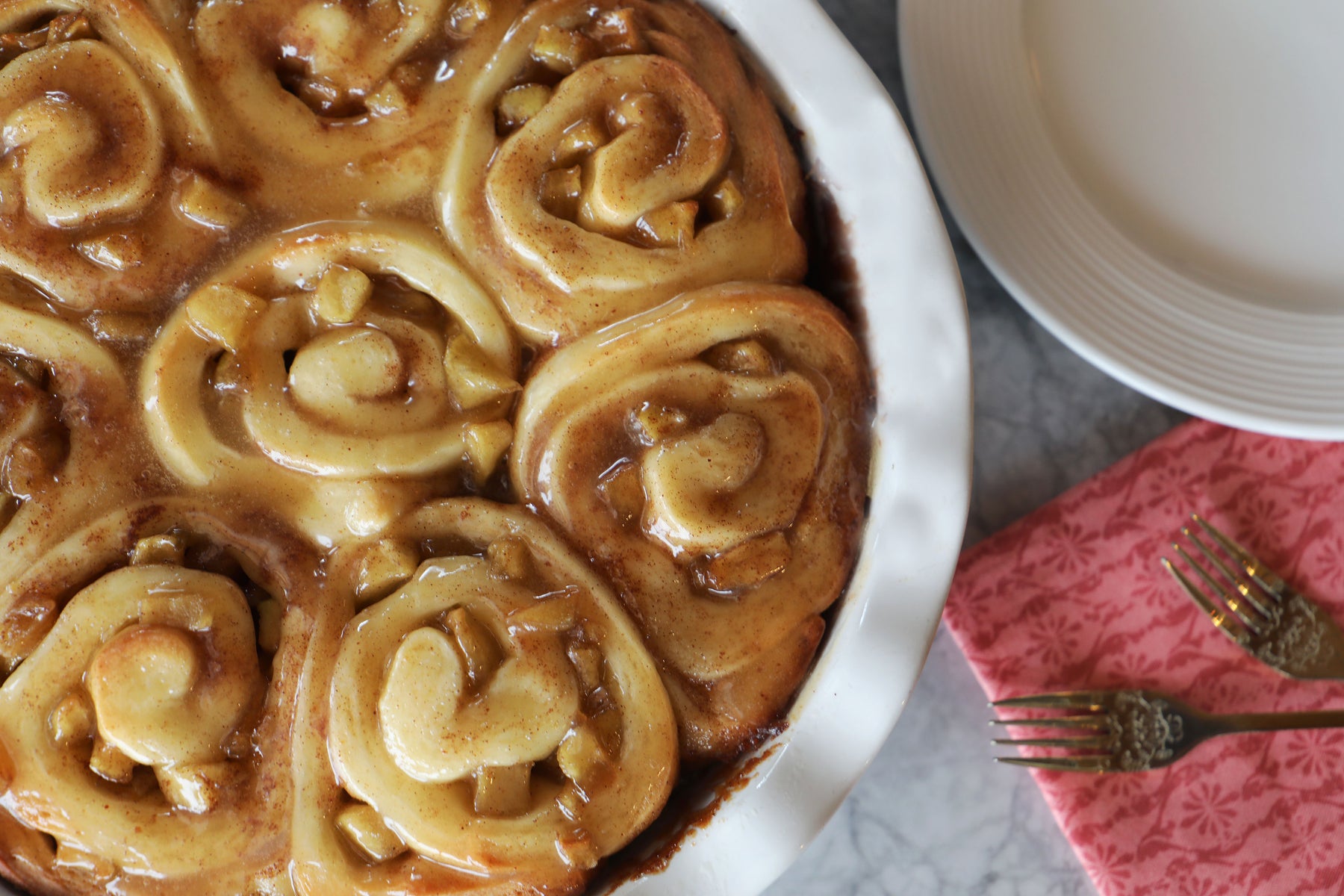 Apple Cinnamon Rolls
10-12 rolls (10-inch pie dish)

1 cup warm milk
½ cup butter, melted
3 ½ cup flour
½ cup sugar, divided
½ tsp salt
1 package active dry yeast (2 ¼ tsp)
1 egg
1 jar Apple Cinnamon Curds
3 apples, peeled and diced
1 Tbsp butter
½ cup + 2 Tbsp brown sugar
2 tsp cinnamon

- In a small bowl or measuring cup your active dry yeast, 2 tsp sugar, and warm milk. Let yeast bloom for 15 minutes. The mixture will look foamy when it is activated.

- In the bowl of a stand mixer combine 3 cups flour, the remaining sugar, and salt. Stir to combine. Once yeast is activated add it to the mixer along with the egg and melted butter. Stir gently to combine, then using the dough hook attachment, knead for 5-7 minutes or until smooth. If dough is too sticky, add in the remaining ½ cup flour a little bit at a time. Set dough aside in a warm place for 1 hour to rise. The dough should double in size.
- While dough is rising, make the apple filling. Sauté the diced apples in 1 Tbsp butter and 2 Tbsp brown sugar. You do not want to cook the apples too much as they will cook in the oven as well. You want them to be tender, but still have a bit of a bite to them. Set apples aside to cool.

- Once dough has risen, punch it down, and roll it out into a rectangle approximately 9x13. Spread ¾ of the jar of Apple Cinnamon Curds onto the dough evenly. Sprinkle ½ cup brown sugar over top of the curd and press slightly into the dough. Sprinkle the 2 tsp of cinnamon over top. Sprinkle cooked apples evenly over the cinnamon and sugar, gently pressing them into the dough. Starting with the long end, roll up the cinnamon rolls slowly. Once you get to the top, pinch the dough together to seal the seam, and place the seam side down. Using a serrated knife cut the ends of the dough off. Cut the dough into 10 even pieces, and place them in a greased pie dish, or a high sided 9x9 square pan. Cover dish with a damp tea towel and set aside to rise for another 30 minutes.
- Preheat oven to 375°.
- Bake rolls for 20-25 minutes, or until golden brown on the top. Let the rolls cool for 5 minutes, then spread the remaining apple cinnamon curd over the top. Cool for another 10-15 minutes and serve warm. The cinnamon rolls will last for up to 2 days in an airtight container.