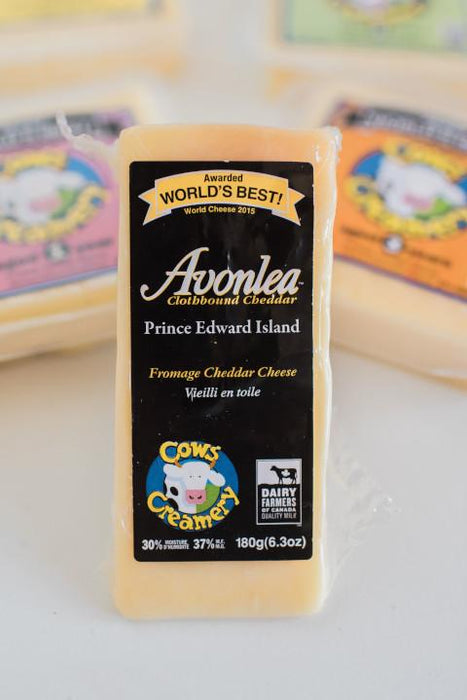 Cows Creamery Avonlea Clothbound Cheddar
Original price
$12.95 CAD
-
Original price
$12.95 CAD
Avonlea Clothbound Cheddar's recipe comes from the Orkney Islands, north of mainland Scotland and is hand made in the style of the great traditional English cheddars.
The milk of Holstein cows from the small local farms in the rolling hills of Prince Edward Island, is gently heated, but not pasteurized to allow beneficial microbes to thrive and give depth of character and flavour. The salt air and iron-rich soil of Prince Edward Island combine to add flavour and quality to this cheddar.
Details
Aged for 12 – 16 Months at 10 – 12 degrees Celsius and 90% humidity
Microbial rennet is used and no colour is added
Our cheese is all natural
Made with unpasteurized milk - The milk is gently heated, which preserves the microorganisms and enzymes in raw milk that give cheddar its characteristic flavor.
The cloth, which is applied to the exterior of the wheels, allows the cheese to breathe resulting in a rich, robust flavour.
Some discoloration on the outer side of the cheese where it was wrapped is normal.
Flavour Profile
Complex flavours with the aroma of fruit and toasted nuts. Firm texture with rich, full bodied flavors and a tangy bite at the end.
Size: 180g
** We ship in an insulated bubble envelope with an ice pack. Shipping in the Maritimes is safe, but outside that, it's shipping at your own risk.