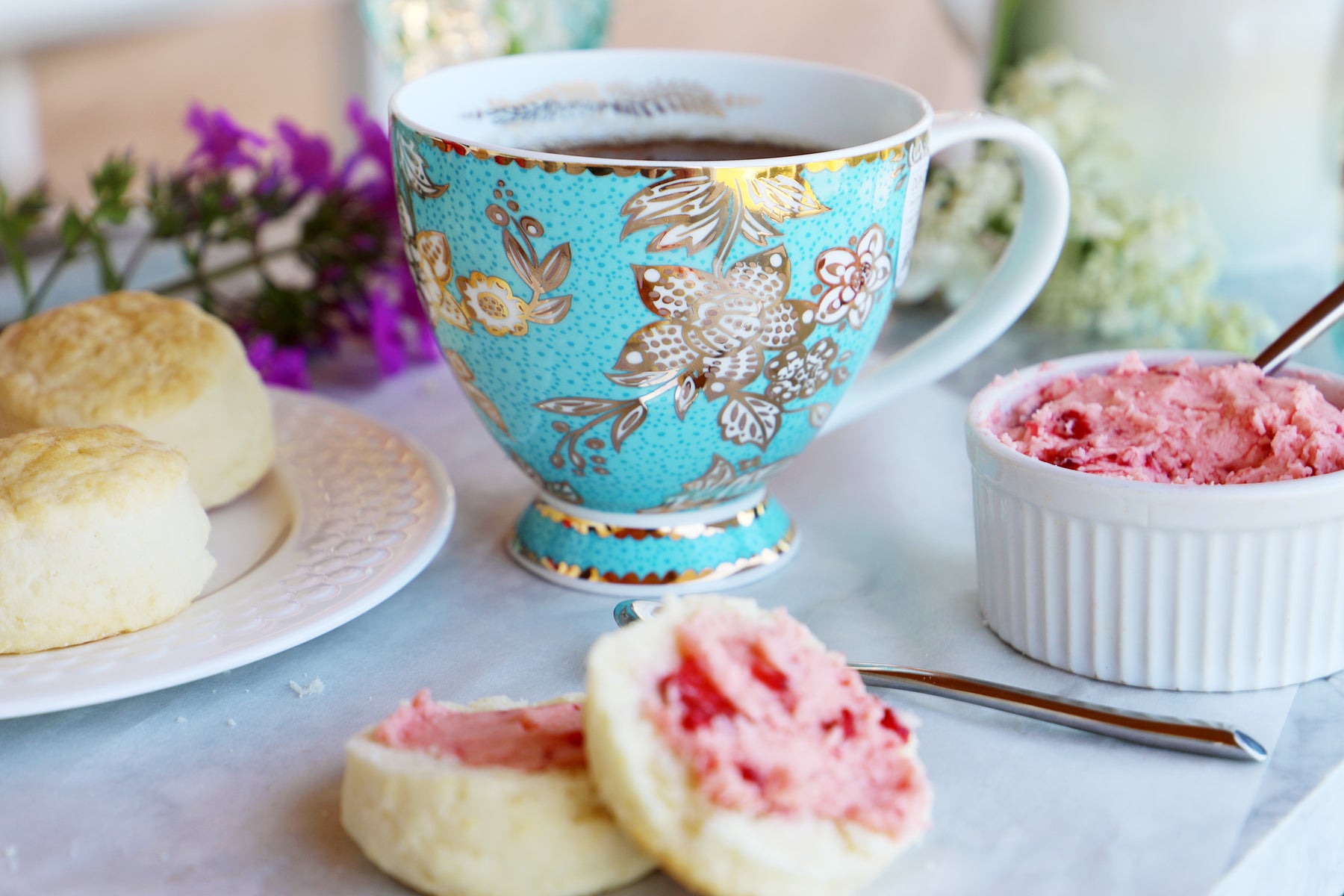 Tea Biscuits with Flavoured Butters
Afternoon tea menus are light and decadent with a selection of finger foods such as cakes, scones, biscuits, and tarts.  There are traditional menus, but it's also fun to put your own creative spin on it.  We love mixing flavoured butters to enhance the tasty experience, here are some ideas of complimenting combinations that are easy and perfect delicious slathered on a warm biscuit.  Enjoy with your favourite cup of tea and friends! 

2 Dozen biscuits

1 Package Tea Biscuit Mix
2/3 cup shortening
1 egg
1 cup milk

Strawberry butter:
½ cup unsalted butter
½ cup icing sugar
3-4 strawberries, chopped small

Vanilla Honey butter:
½ cup unsalted butter
¼ cup icing sugar
¼ cup honey
1 tsp vanilla bean paste

Cinnamon butter:
½ cup unsalted butter
¼ cup brown sugar
½ tsp cinnamon
Pinch of salt

- To make the biscuits preheat oven to 400°.
- Empty package contents into a large bowl and whisk together the shortening and egg and pour over the top. Mix with a fork or your hands until crumbly. Make a well in the center and pour your milk into the mixture. Mix with a fork, or your hands. The mixture will be sticky. On a floured surface knead the dough slightly and roll out to 1" thickness. Using a 2" biscuit or cookie cutter, punch out biscuits and place on a parchment lined baking sheet. Bake for 15 minutes.
- To make the flavoured butters beat all the ingredients in the bowl of a stand mixer, or with a hand mixer. Whip until light and fluffy.