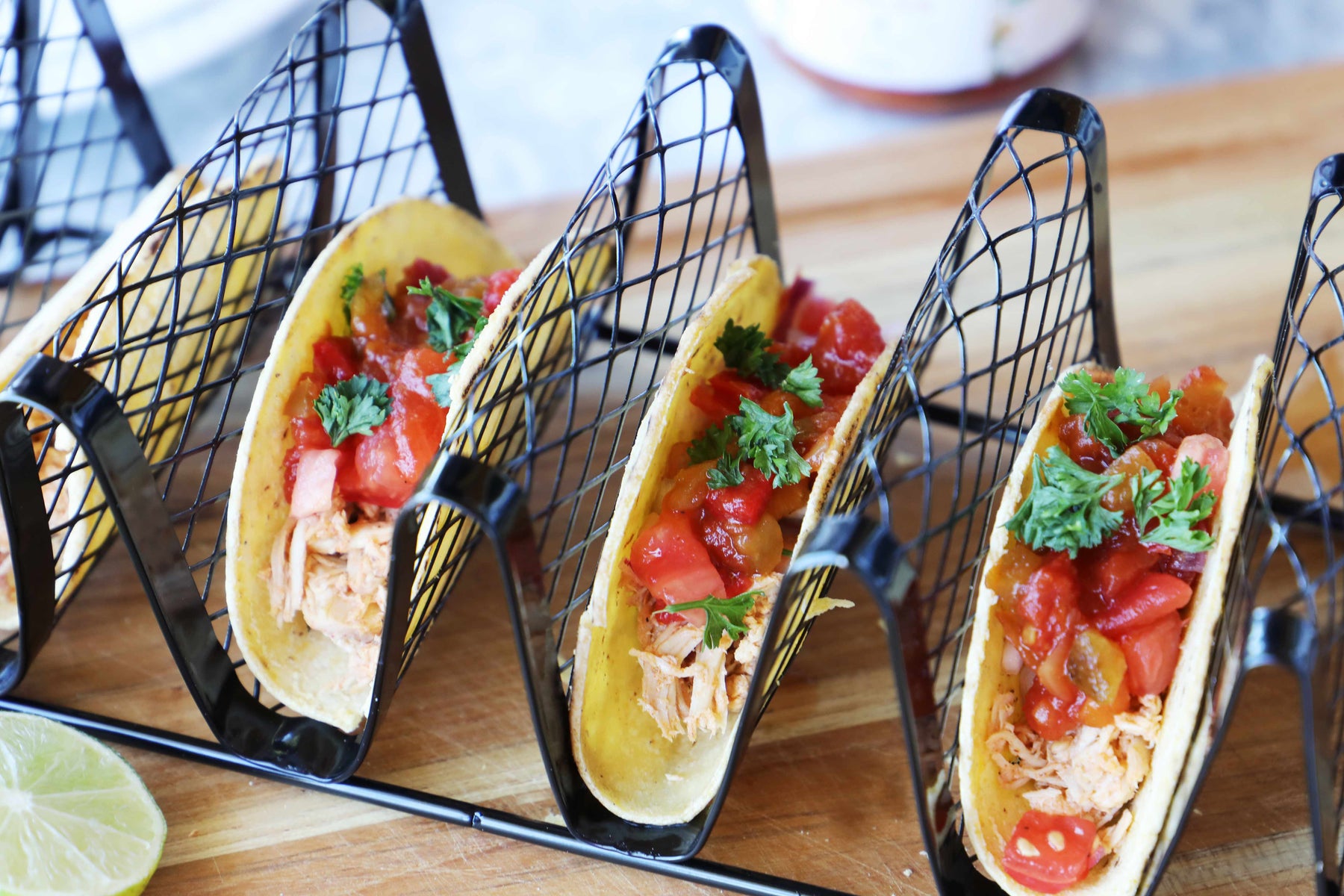 Pulled Chicken Tacos
12-14 tacos (depending on the size of your taco shells)

4 boneless, skinless chicken breasts
3 Tbsp water (or chicken stock)
1 cup Habanero and Mango BBQ sauce (divided)
1 tsp paprika
½ tsp dried oregano
1 tsp garlic salt
1 tsp onion salt
3 cloves garlic

Taco shells (whatever your preference is, I used corn tortillas)
1-2 limes
1 tomato, diced
½ red onion, diced
Handful of cilantro or parsley
Peach Salsa

- In a small bowl mix together the paprika, oregano, garlic salt, onion salt, and salt.
- Whisk together the water and ¼ cup of the BBQ sauce on the bottom of a crock pot.
- Lay the chicken breasts in the bottom of the crock pot and sprinkle the spice mixture evenly over the top. Add in the garlic cloves (You can mince them, but you do not need to. They will soften as the mixture cooks and can be shredded along with the chicken when done). Set the crock pot to low for 6-8 hours, or high for 3 hours.
- Once the chicken is done, shred it all together with two forks. While shredding the chicken, add in the rest of the BBQ sauce. Taste it, and if you want extra spice or sauce, you can add in some more BBQ sauce.
- In a bowl add the diced tomatoes, red onion, and half of the cilantro or parsley. Sprinkle with salt and pepper and squeeze the juice of ½ lime over the top. Stir together. You can use whatever toppings you prefer for your tacos. These would be delicious with some sharp cheddar cheese, sour cream, corn, avocado and even some fresh mango.
- Assemble your tacos by starting with a good amount of the pulled chicken, add on some of the tomato onion mixture, and a spoon full of peach salsa. You can squeeze on some more lime juice and add some extra parsley to finish it off.