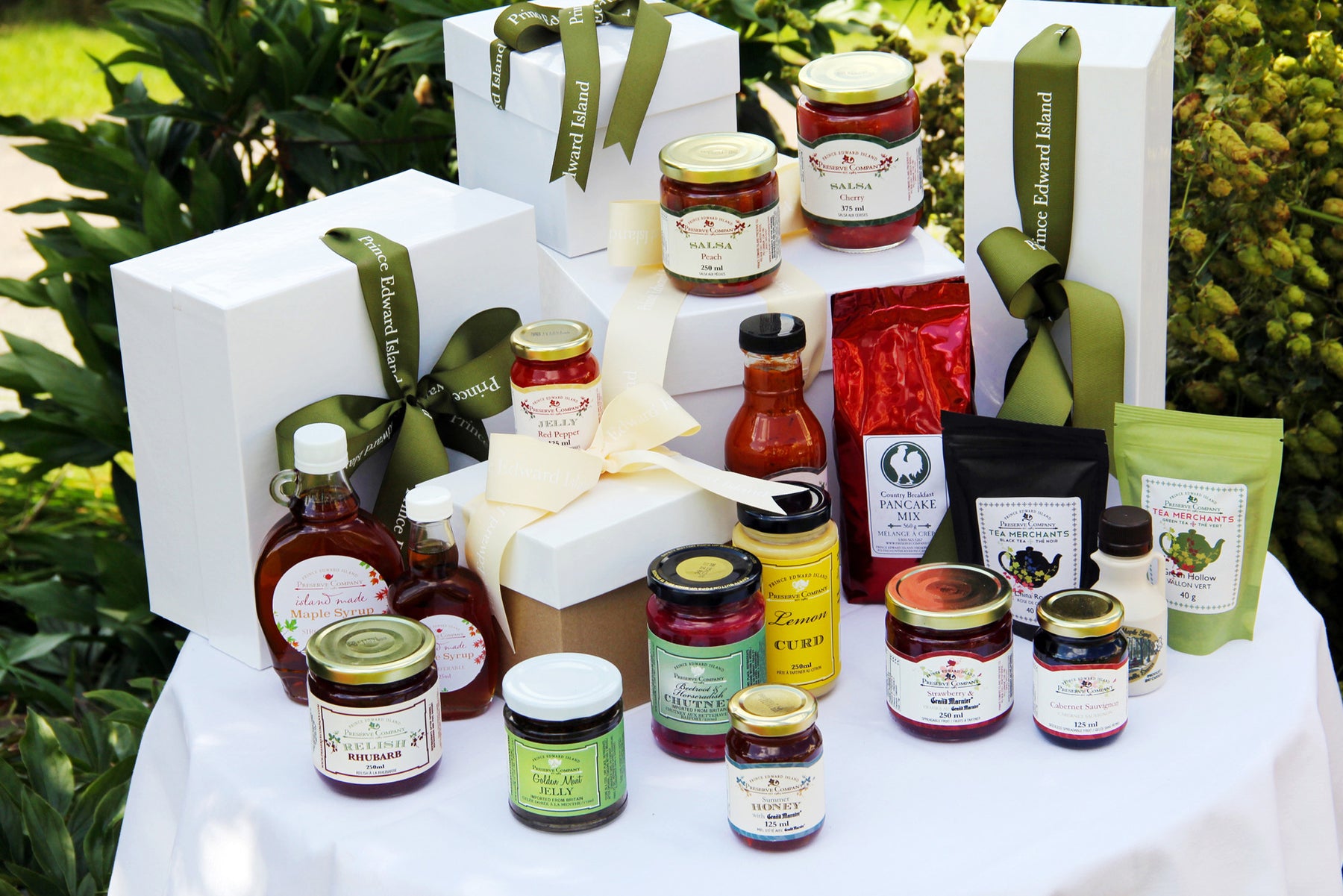 A Day in the Life
As the green leaves of summer adopt rich autumn hues and cascade to the ground where snow covers them, I'm reminded of the beauty that lies within the changing seasons, both in nature and in our lives.
After welcoming tens of thousands of visitors to our restaurant, gift shop, and gardens over the last few months, life here at the Prince Edward Island Preserve Co. shifts as the holiday season approaches.
To give you an idea of what a typical day might look like for us at this time of the year, I thought it would be fun to give you a behind the scenes look at day in the life for us.
Our wonderful staff begin arriving around 7:30am. After some chit chat and catching up, we all make our way to our various nooks. Today, we're finishing work in the Gardens of Hope. A group of us have worked throughout the fall to build new paths, three new rock retaining walls, two pergolas, and plant new shrubs, trees, and flowers. As we anticipate snow, we're hoping to finish work in the garden this week. Plus, it's getting a little chilly for yard work!
As our gift shop opens, the kettle boils and the tea steeps. Our sample table is set with jars of fruit preserves and crackers for tasting. Although we don't have as many guests in our store at this time of the year, we like to make sure the tea is ready for those who do come.
Speaking of tea, a couple of our employees busily package herbal, black, and green tea to be sold individually and as tea gift baskets. This is a task that happens most days throughout the year.
If you're standing in the gift shop, you'll see the lights in the preserve kitchen turn on and a new "Todays' Flavour" sign hung up. Today we're cooking Wild Blueberry & Lemon with Fresh Mint preserves. There are always a few people in the kitchen doing small batch preserving and preparing the fruit jars and labels, making the preserves, and bottling them. We're also creating new recipes for sugar free preserves, so when we're not in production mode, we're trying out some of these new products. If wondering how to reduce sugar in your life, stay tuned for these products in 2016.  
Following your nose, the scent of freshly baked shortbread cookies and fruit cake will lead you to our pastry kitchen where our bakers extraordinaire are whipping up batch after batch of delicious holiday treats. 
Shortbread cookies
Fruit Cake
If you've enjoyed a meal in our restaurant during the summer, you'd be surprised to walk into it today and see that it's been transformed into something that resembles Santa's workshop. Many folks send us their wish list and we merrily package their orders of preserves, mugs and other gift items to be sent to homes across North America.
After the cookies and cake cool, they are wrapped and readied for shipping. An assembly line seems to form as gift boxes are made, ribbon is cut, labels are printed, and preserves and baked goods are packaged into seasonal gift boxes and sent on their way to be placed under trees across the country and around the world.
Aside from the holiday preparation, we're also working on a recipe eBook to be released in the new year. As folks submit recipes, we test them out (I know, I know, it's a rough life!). We're also gearing up to draw our winner for an all-inclusive trip to Prince Edward Island. (If you haven't entered yet, you can here.)
We welcome the change in seasons and the change in pace. It's nice to slow down and welcome winter and the holiday season.

— The Preserve Company (@PreserveCompany) November 20, 2015
Although we miss seeing all of you visitors, we welcome the change in seasons and the change in pace. It's nice to slow down and welcome winter and the holiday season.