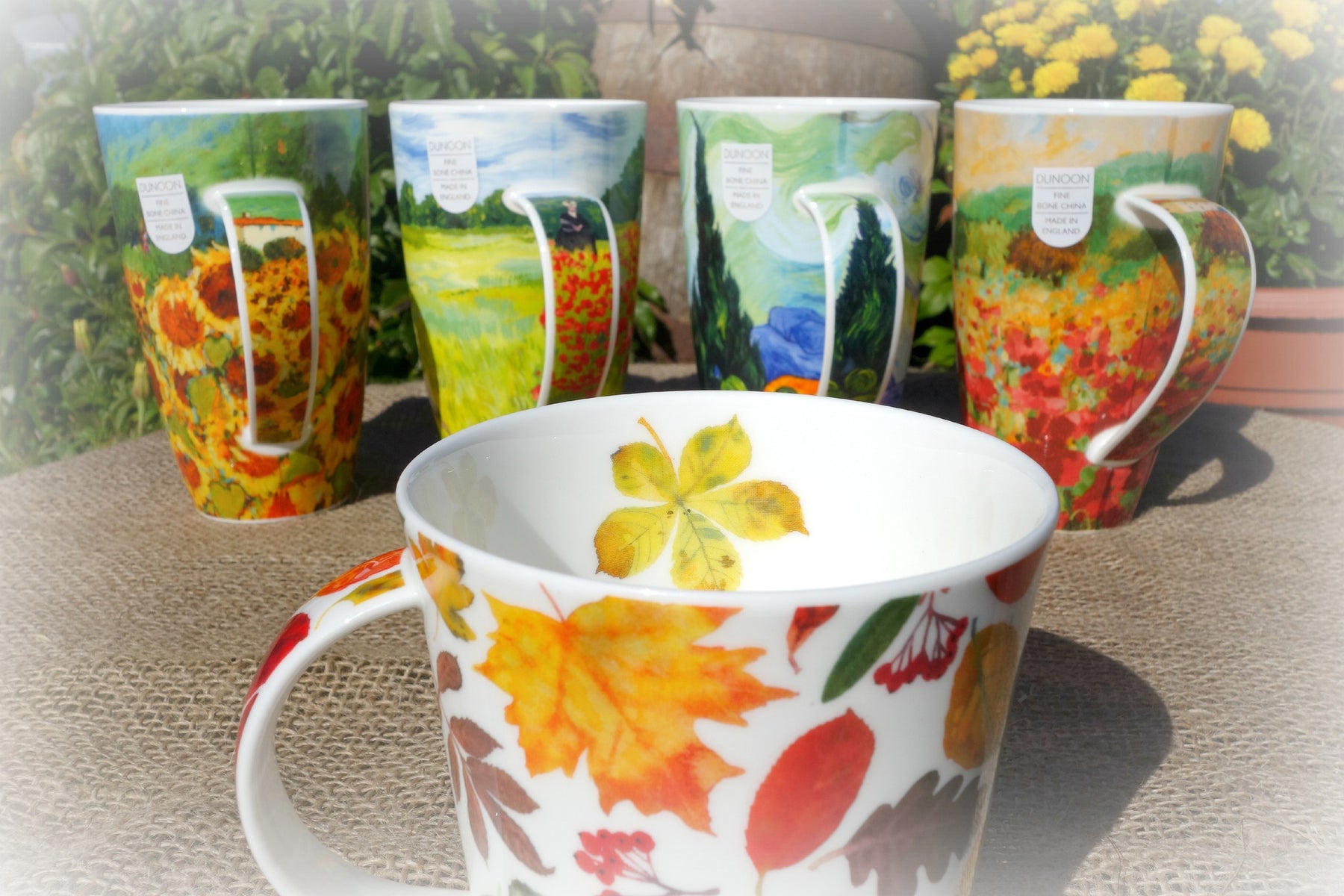 Dunoon: Exquisitely crafted fine bone china
Each year we welcome tens of thousands of guests to our restaurant and gift shop. When visitors walk through our doors it's always neat to see what catches theirs eye first. For some, it's the preserve sample table or the preserve kitchen observation window that captures their attention...and their appetite!  For many, though, it's our wall lined with shelves and filled with colorful and intricately designed Dunoon mugs and teapots.  When we discovered Dunoon tea ware a few years ago, we knew we wanted to sell it in our shop. As tea lovers, we were drawn to the quality of Dunoon products. They are finely crafted and come in an array of fun and unique designs. When we say there's a design for every tea lover, we're not kidding. There's something for the gardener, the musician, the handyman, the baker, and the nature seeker, just to name a few.
Where does Dunoon come from?
Dunoon started as a humble family business in Argyll, Scotland in 1974. Their first display case had only 72 mugs for exhibit at the Highland Trade Fair in Scotland. Dunoon quickly gained a reputation for quality and beauty and in 1982, moved the headquarters to Stone, Staffordshire, the heart of the pottery business. Despite the move, a shop still remains in Scotland and Dunoon is very loyal to its Scottish roots.
Dunoon's range of mugs has grown over the years. They now have approximately 1,000 mug designs, and introduce 250 new designs each year. Mug designs range from contemporary to classic styles, in an effort to suit all tastes.
Thanks to highly skilled tradespeople, whose beautiful designs have captured the attention of buyers around the world, Dunoon has flourished as a company, and now celebrate more than 40 years of work.
With this success, they've been able to expand their market worldwide and sell in Canada, Australia, USA, Europe, Taiwan, Japan, Korea and China. Here at the Preserve Company we have the largest online selection of Dunoon in North America.
How are they made?
Dunoon employs local and skilled crafts people to carefully create each mug. Most of these employees have been with Dunoon for years and have honed the ability to create fine bone china. Dunoon says that it's their workers and quality control that are vital in "producing the highest quality mugs, well designed in both shape and pattern and manufactured with the greatest care for the discerning customer."
Dunoon's high quality fine bone china clay comes from Cornwall, South West England. It's this special clay that gives mugs their translucency, bright whiteness and strength. The mugs are created through a 12-step process including the mould making, casting, firing, grinding, glazing, just to mention a few.
Whether you're looking for a new mug to add to your collection, or searching for a meaningful gift for the tea or coffee lover in your life, Dunoon truly has an selection for everyone. And if you're not in the area to browse our shelves, you can view our online selection from the comfort of your own home.
What's your favorite Dunoon style? Let us know in the comment section below.