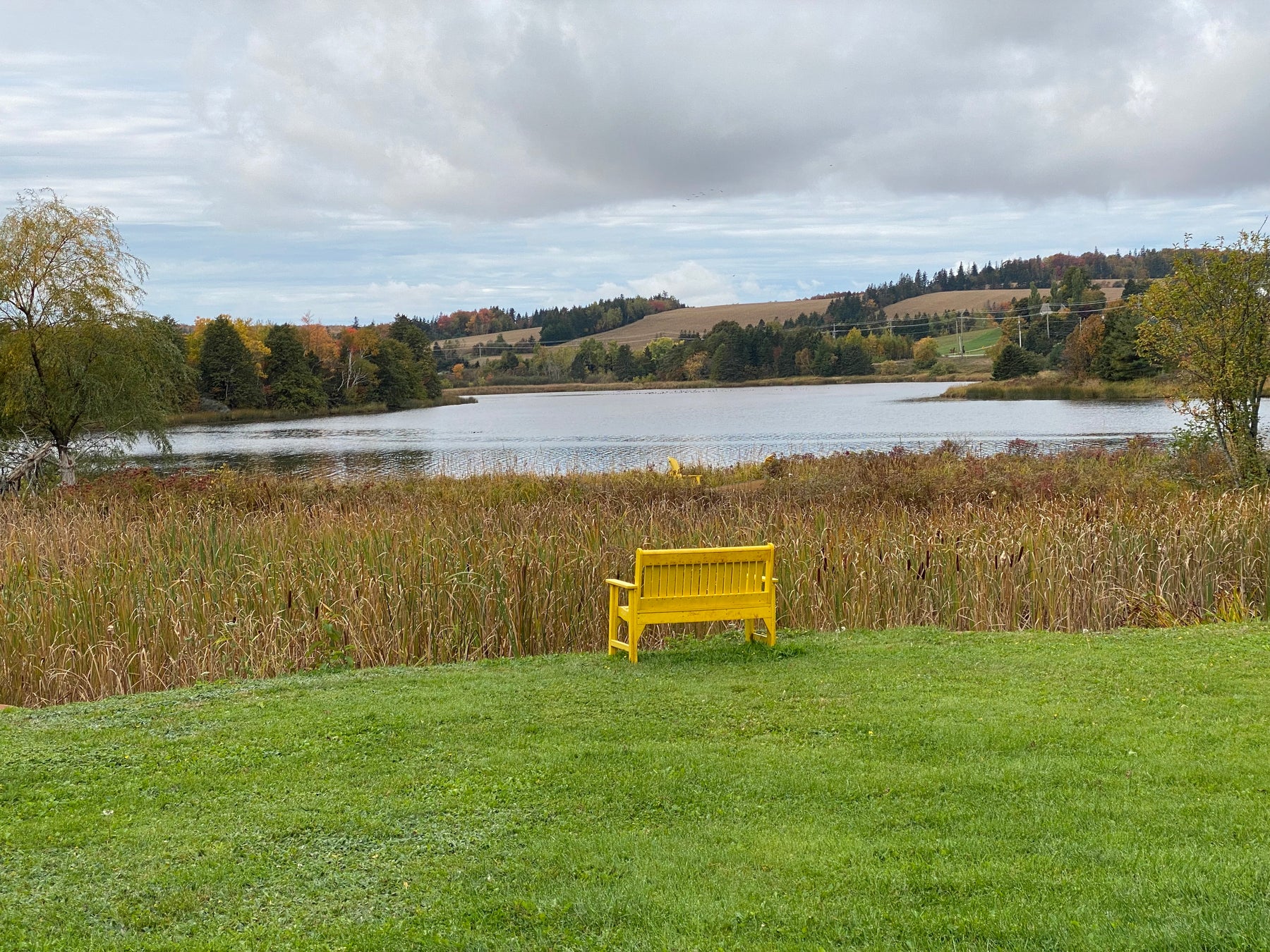 A Year of Wonder + Three Day Road + Whoops with Words
Good Morning from Warren Grove, Prince Edward Island,
The sun certainly is lazier these days. It didn't wake up till 7:40 am this morning. 
Q: A sundial has the fewest moving parts of any timepiece. Which has the most? 
(answer will show up in the body of this blog)
I hope everyone had a great week. 
It has been a great week for listening to music. 
Once a day, I reach for the book, Year of Wonder by Clemency Burton-Hill.
From Amazon...
Classical music has a reputation for being stuffy, boring, and largely inaccessible, but Burton-Hill is here to change that. An award-winning writer, broadcaster and musician, with a deep love of the art form, she wants everyone to feel welcome at the classical party. Her desire to share her passion for its diverse wonders inspired this unique, enlightening, and expertly curated treasury. As she says, "The only requirements for enjoying classical music are open ears and an open mind."
Year of Wonder introduces readers to one piece of music each day of the year, artfully selected from across genres, periods, and composers. Burton-Hill offers short introductions to contextualize each work and makes the music come alive in modern and playful ways. From Bach, Beethoven, Mozart, and Puccini to George Gershwin, Clara Schumann, Philip Glass, Duke Ellington, and many remarkable yet often-overlooked voices, Burton-Hill takes us on a breathtaking journey through our most treasured musical landscape.
Thoughtfully curated and masterfully researched, Year of Wonder is a book of classical music for everyone. Whether you're a newcomer or an enthusiast, Burton-Hill's celebration will inspire, nourish, and enrich your life in unexpected ways.
It is like a daily devotional paying tribute to all the musicians who have added so much to the world of music. 
Today's piece is probably the world's most well-known classical piece of music by Johann Pachelbel from 1653-1706. Likely being played at a wedding somewhere in the world today.
Films Watched This Week
Shirley and I loved watching Freedom Writers, staring Hilary Swank, Imelda Staunton, Patrick Dempsey. It is based on a true story on how a young teacher inspires her class of at-risk students to learn tolerance, apply themselves, and pursue education beyond high school.
"Education is the most powerful weapon which you can use to change the world" – Nelson Mandela.
I enjoyed watching this Billy Crystal directed film and worth the time, Here Today.
When veteran comedy writer Charlie Burnz (Billy Crystal) meets New York singer Emma Payge (Tiffany Haddish), they form an unlikely yet hilarious and touching friendship that kicks the generation gap aside and redefines the meaning of love and trust.
"We do not remember days, we remember moments." ~ Cesare Pavese
Reading This Week
Three Day Road
About a month ago, Michele, one of our restaurant regulars handed this book to me to read. I finally was able to give it some time this week. Oh my! 
Three Day Road is the first novel from Canadian writer Joseph Boyden. Joseph's maternal grandfather, as well as an uncle on his father's side, served as soldiers during the First World War, and Boyden draws upon a wealth of family narratives. 
I can't stop reading it and thinking about it when I am not. I admire the way he weaves words to create such beautiful sentences.  Combining the sentences paragraph to paragraph, chapter to chapter is not a story you read but a story you experience. It is storytelling at its finest. 
From Amazon...
It is 1919, and Niska, the last Oji-Cree woman to live off the land, has received word that one of the two boys she saw off to the Great War has returned. Xavier Bird, her sole living relation, is gravely wounded and addicted to morphine. As Niska slowly paddles her canoe on the three-day journey to bring Xavier home, travelling through the stark but stunning landscape of Northern Ontario, their respective stories emerge—stories of Niska's life among her kin and of Xavier's horrifying experiences in the killing fields of Ypres and the Somme.
Review from Lisa Adams on Amazon. 
Xavier Bird, and his friend Elijah Whiskeyjack, from the James Bay area of northern Ontario, are soldiers and snipers fighting in the trenches of WWI. At the opening of the book, Elijah has been killed, and Xavier is wounded and addicted to morphine and has been sent home. He is met at the train station by his aunt Niska, one of the last Cree still living the traditional life, who has come to take Xavier home via a three-day canoe trip.
The author deftly weaves three distinct storylines - the current story of the trip home, Xavier's experiences in Europe, and Niska's early life. I found myself equally drawn to Niska's evolving spiritual power and Xavier's parallel coming of age.
The title, "Three Day Road," refers to both the canoe trip home and the Cree journey after death. As I watched Xavier battle his inner demons, it kept me in suspense until the very end, wondering which three-day road he was travelling.
A quote I am thinking about…
"Life will break you. Nobody can protect you from that, and being alone won't either, for solitude will also break you with its yearning. You have to love. You have to feel. It is the reason you are here on earth. You have to risk your heart. You are here to be swallowed up. And when it happens that you are broken, or betrayed, or left, or hurt, or death brushes too near, let yourself sit by an apple tree and listen to the apples falling all around you in heaps, wasting their sweetness. 
Tell yourself that you tasted as many as you could." ― Louise Erdrich
Let's Groove in Dance. Go ahead, turn it up and wiggle and giggle. No one is watching. 
Wishing you and your family a wonderful weekend and love all around. 
A sundial has the fewest moving parts of any timepiece. Which has the most?
An hour glass filled with many grains of sand. 
With love from Prince Edward Island, 
Bruce + Millie
ps. Your Morning Smile 
Newspaper Blooper Headlines Around the Globe 
L.A. Voters Approve Urban Renewal by Landslide 

Patient at Death's Door - Doctors Pull Him Through 

Queen Mary Having Bottom Scraped 

Juvenile Court to Try Shooting Defendant 

Killer Sentenced to Die for Second Time in 10 Years 

Police Begin Campaign to Run Down Jaywalkers 

Panda Mating Fails; Veterinarian Takes Over