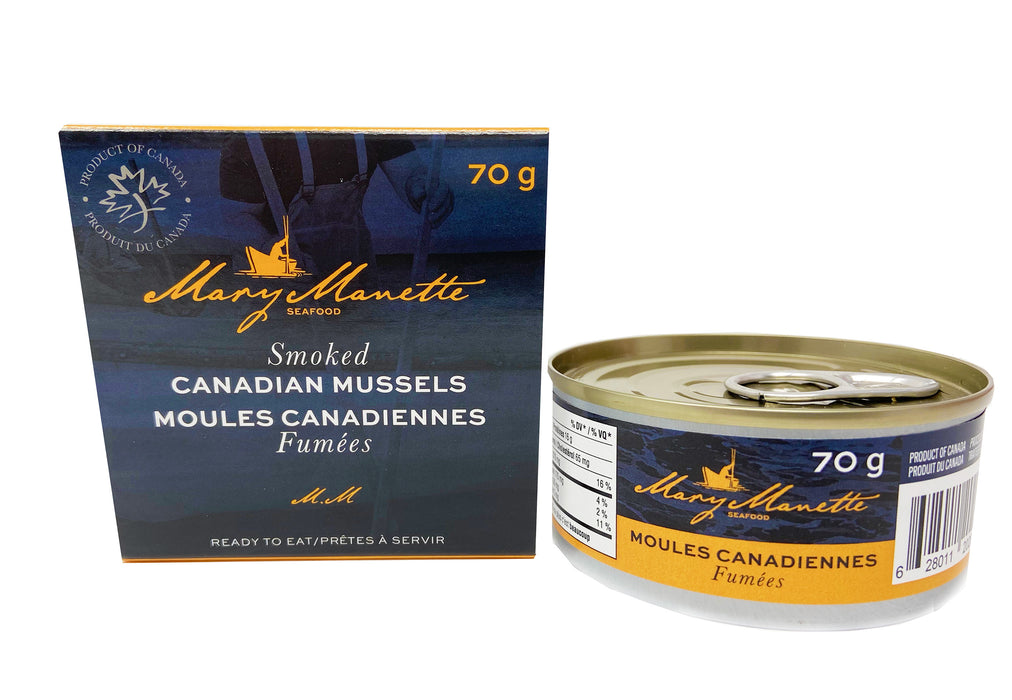 Canadian Smoked Mussels
Original price
$13.99 CAD
-
Original price
$13.99 CAD
These mussels are sustainably sourced from cold, clean Canadian waters, gently brined, lightly smoked with natural hardwood and then hand-packed to ensure care and quality. Ready to eat right out of the can, Mary Manette's smoked tinned mussels are a convenient way to add Canadian shellfish to your recipes. Low in saturated fat and high in protein, these smoked mussels are an exciting addition to a variety of pasta sauces or paella. Or, serve them straight from the tin--pair with potato chips or a cracker and a spicy mayo and create an effortless and elegant appetizer to share.
How To Serve: 
Easy appetizer—seacuterie board:
Serve straight from the tin on a cheese plate, charcuterie or "seacuterie" board accompanied by thick cut potato chips, toast points or crackers, a spicy mayo or our delightful lemon horseradish cream sauce. Add minced red onion and a squeeze of fresh lemon for an easy seafood appetizer that's sure to impress.
Quick meal—garlic mussels on hot buttered toast:  
In a pan, warm one tablespoon of butter, one clove of minced garlic and two tins of Mary Manette's smoked mussels. Toast two slices of artisanal bread. Cook garlic, mussels and butter for about 2 minutes until warmed through and the flavours blend. Butter two slices of warm toast and divide mussels between the slices. Serve open-faced with a light salad, a good book and a crisp white wine or cider.
Size: 70g
Only available to ship in Canada at this time!