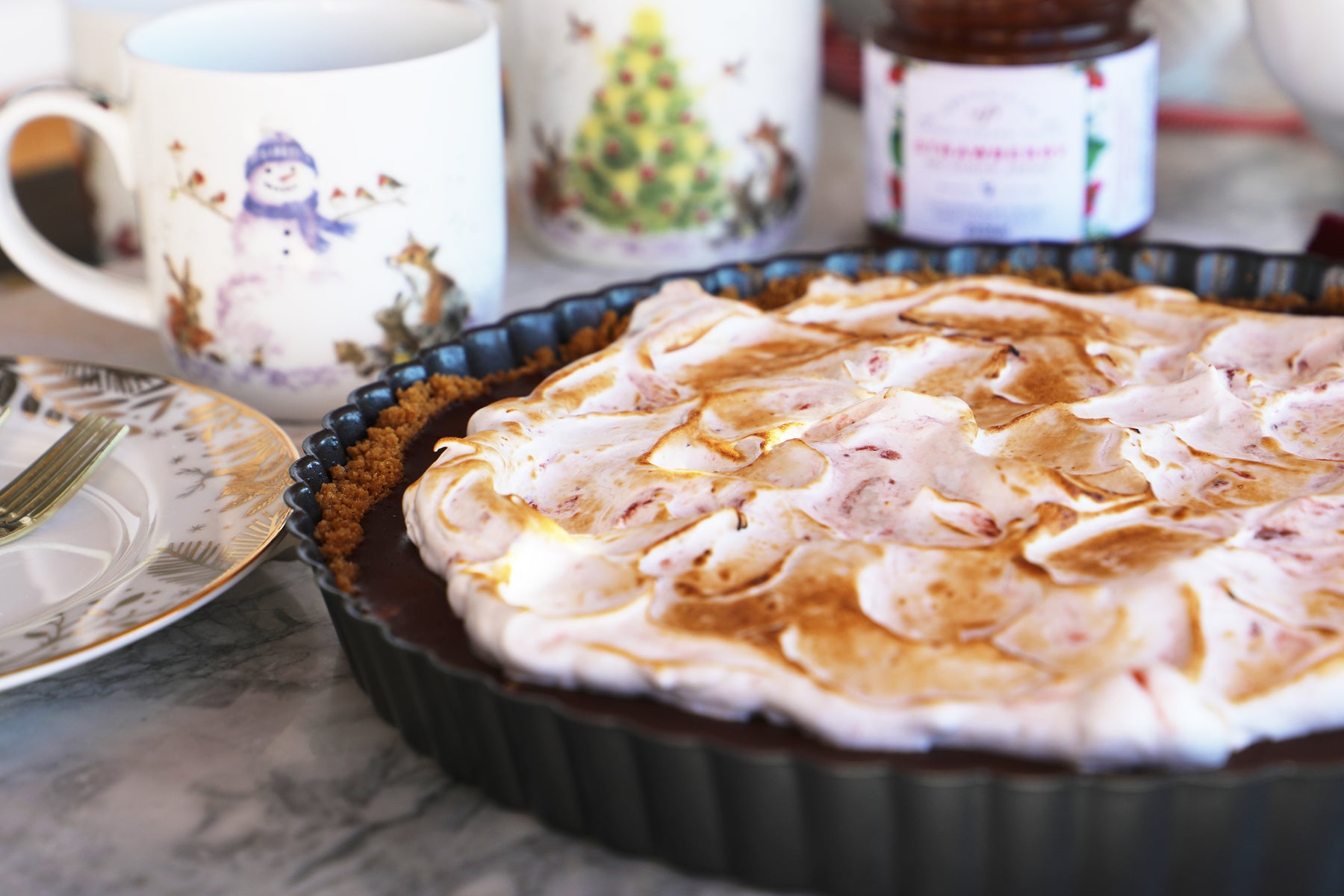 Preserve Company Strawberry S'mores Tart
A perfectly tender graham cracker crust with rich creamy chocolate and marshmallow topping featuring our tasty Strawberry No Sugar Added Preserves. 

10" tart

Graham cracker crust:
1 ½ cups graham cracker crumbs
¼ cup sugar
¼ cup melted butter

Filling:
12 oz. Semi sweet chocolate, chopped
1 cup heavy cream
¼ cup unsalted butter, cubed
1 jar No Sugar Added Strawberry Preserves (reserve 2 Tbsp for topping)

Meringue topping:
2 large egg whites
1/3 cup sugar
1 tsp vanilla
2 Tbsp No Sugar Added Strawberry Preserves

- Preheat oven to 375°. Line the bottom of your tart pan with parchment paper.
- Stir together the graham crumbs, sugar, and melted butter. Press crust into tart pan and bake for 8 minutes. Set aside to cool completely.
- Spread Strawberry Preserves in the bottom of your tart. You can heat up the preserves slightly to help spread it evenly along the bottom. Set in the fridge while you put together the chocolate filling.
- Melt together the chocolate and heavy cream in a bowl over a pot of simmering water. Once melted, turn the heat off, but keep the bowl on the pot of hot water. Stir in butter one cube at a time melted each cube completely before adding the next one. Once completely combined,
pour chocolate in the tart, and let the tart set in the fridge for at least 4 hours, or over night.
 - To make meringue topping, whisk together the egg whites and sugar in a bowl over simmering water. You want to whisk constantly, until all the sugar is dissolved. Remove from heat and pour into the bowl of a stand mixer. Whip on high speed until stiff peaks occur. Spoon remaining strawberry jam into meringue, and swirl with a knife. Spread meringue onto the tart, and swirl with a spoon. You can toast the meringue with a kitchen torch, or place in the oven
under a broiler (make sure to keep an eye on it if you do this, it can get very brown/burnt fast).
Serve right away or keep in the fridge for up to 2 days. If you want to keep it longer, do not put the meringue on right away, but right before serving.